Jerry Seinfeld Reveals a 'Seinfeld' Reunion Is Actually Happening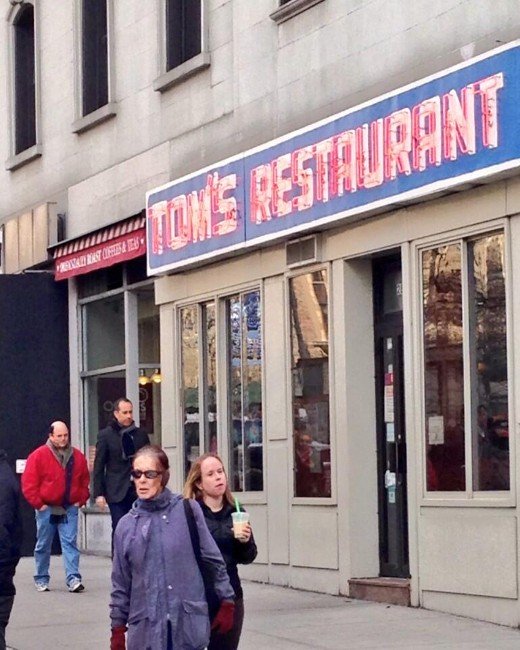 ClubAliP/Twitter
UPDATE: It looks like Seinfeld fans were right to get excited after all. Jerry Seinfeld stopped by the WFAN Boomer & Carlton radio show on Thursday, presumably to talk about football and this weekend's big Super Bowl, but that's nothing compared to what the comedian actually revealed.
The hosts asked Seinfeld about the now-famous photo of him and former co-star Jason Alexander outside of Tom's Restaurant, and Seinfeld confirmed that the outing was part of a "secret project," that's "short-ish," but that the pair was not reuiniting for a commercial spot or an episode of his webseries, Comedians in Cars Getting Coffee — meaning there actually is a Seinfeld reunion of some sort in the works. Seinfeld also revealed that there were several other alumni of the show present, including Larry David, although he won't be appearing on camera, and that they filmed at a few different locations in Manhattan. So… all signs point to reunion episode. Or some infinitely more clever concept that Seinfeld would do in place of a reunion episode (you know, like it already did on Curb Your Enthusiasm).
Fans hoping for a recurring series shouldn't get too excited, as Seinfeld has confirmed that the reunion would be a one-time only event. On the bright side, though, he did promise that the project will be properly unveiled "very, very soon."
EARLIER: Is that Jerry Seinfeld and Jason Alexander on the set of a Seinfeld reunion?
Seinfeld fans have been busy untangling a web of clues and hints surrounding what Jerry Seinfeld and Larry David are working on, and if it is indeed a Seinfeld reunion. Last week, Seinfeld stopped by Reddit for an AMA, the website's version of a Q&A session for its millions of users. In the thread, which racked up over 10,000 comments, Seinfeld mentioned that he was working on a secret project with Seinfeld co-creator David. Seinfeld says, "We wrote this script for this thing that you will eventually see but I can't reveal what it is at this time. All I can do is tell you is that it's big, huge, gigantic. Even bigger than that Amazon package."
If that didn't already send expectations over the moon, the quick eyes at The Gothamist caught a glimpse of Seinfeld and Alexander, a.k.a. George Costanza, taking a stroll in front of Tom's Restaurant, the legendary Manhattan eatery that served as the exterior location for the Seinfeld restaurant, Monk's Cafe (or "the coffee shop"). Even more suspicious is the fact that Alexander is seen wearing some particularly Costanza-like clothing in the picture. Hmm… could this really be some sort of Seinfeld project?
The answer to this question is a deafening probably not. Adding another wrinkle to the whole situation, Roger Freidman of Showbiz 411, who spoke with Larry David recently, said Seinfeld and David are working on a play for Broadway, and that this was most likely the gigantic project that Jerry teased on Reddit. Even more dream-squashing is the fact that the shot of Seinfeld and Alexander outside of Tom's Restaurant is most likely the duo filming an episode of Seinfeld's web series, Comedians in Cars Getting Coffee. While it's a little disheartening to see all these hopeful threads come to possibly disappointing ends, the prospect of a Larry David and Jerry Seinfeld Broadway production is still pretty exciting, even if it's not the reunion we've spent the past few days dreaming about.