'Jersey Shore' OMG Moments: Free Vinny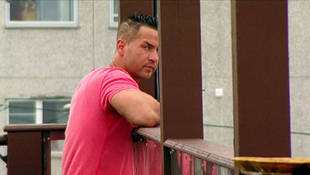 S5E4: It's the end of another week and that means there are a whole new set of shenanigans for the Jersey Shore crew to get into. Last time we checked in, Mike was feeling a little blue for not getting the birthday loving he deserved, which left him feeling a bit depressed. But don't worry Jersey fans, we're not going to have another Vinny situation on our hands (thank God) because the gang rectified things by throwing a surprise birthday party for Pauly D and Mike. And as you would suspect, there were plenty of eye-rolling moments along the way. And let's not forget to celebrate the fact that Vinny's back! Check out this week's biggest OMG moments for inspiration for your own weekend (or birthday) plans.
Danny Lays Down the Law
The gang's boss and landlord stopped by the house and threatened to bring in new roommates since Vinny's gone and Mike (at the time) was MIA. He also hassled them for not working hard enough, but's laughable that he expected anything more from this group. As you can guess, they didn't like the idea of getting new roommates (because they'll just "never get it"), so they attempted to pick up the slack at work. Well…everyone except Mike. But that didn't stop J-Woww from tearing down the "Help Wanted" sign at work. You see, because no sign means no more interviews and no interviews means no possible new roommates. Problem solved!
Pauly D Teaches the Girls How To Walk Hard
After work Deena and Snooki get a bunch of fake tattoos, which makes them feel pretty badass, so they ask Pauly D to teach them to "walk hard." Now I'm not a walking-hard expert, but I'm pretty sure this means that you walk with authority and I guess the girls thought Pauly was the best one for such advice (maybe he's related to Dewey Cox?). Anyway, they basically just stumble around a lot, which is really nothing new. Meatball power!
Snooki and Deena Smush Like Bunnies
Now that the gang's decided to throw a surprise birthday party for the boys, Snooki and Deena put their meatball heads together and went to the Party Store for some supplies. Obviously this can't just be an average trip to the store, so when Snooki stumbled upon giant bunny heads they decided to put them on and do what bunnies are known to do best. That's right, bunny sex — and they were even nice enough to mime it for all the customers in the store to see. Are these gals great or what? I mean, who wouldn't want to see that?
Deena Doesn't Know How To Hang Up the Duck Phone
The title kind of speaks for itself and there's really not much to say about it other than WHAAAT?! Twice Deena used the phone during this episode and both times she neglected to properly hang the phone up. I mean, it's a duck phone…just put the two pieces together. I guess some things are just way too difficult.
The Gang Takes a Trip To See Vinny
Everyone was really starting to panic about getting new roommates, so it was time to take action. All seven of them loaded into a car (wearing Free Vinny T-shirts, mind you) and headed off to Staten Island to pay Vinny a visit and try to convince him to come back. Which, as you can imagine, was a really good plan considering the whole reason he left was to get some much-needed privacy. So I'm sure showing up with a whole camera crew was exactly what he was hoping for. But guess what — the plan worked and Vinny's coming back. All is right with the world.
So what did you think of tonight's episode of Jersey Shore? Are you glad Vinny's back? Where you surprised he came back so quickly? What was your favorite OMG moment of the night? Sound off in the comments!