'Jersey Shore' star JWoww: 'Deena's Arrest Is F***ing Hysterical'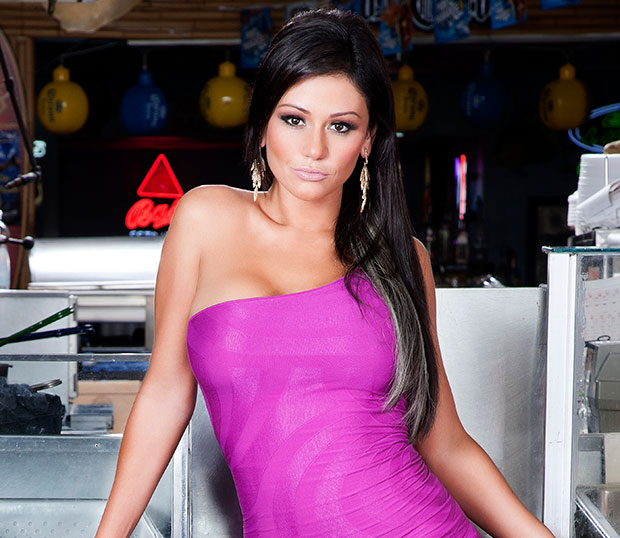 The last season of Jersey Shore keeps chugging on, despite the fact that it premiered with numbers so low it would make Snooki's neckline jealous. In tonight's episode, "Merp Walk," JWoww learns the full extent of her injury from last week's club fight, Mike considers taking things to the next level, and Deena holds Meatball auditions now that her partner-in-meatball-crime Snooki has a bun in her oven. Hollywood.com got the chance to catch up with JWoww herself, Jenni Farley, at Comedy Central's Night of Too Many Stars to talk about saying goodbye to Jersey Shore, what we can expect to see in the upcoming episodes, and her pick for the sexiest presidential candidate:
Hollywood.com: So Jersey Shore is coming to an end. How do you feel about this era coming to a close?
JWoww: It's definitely bittersweet only because we wanted to go out on top and we are. And we knew that we couldn't replace any of us so with all of us settling down and moving and with Snooki having Lorenzo, we knew it'd be our last time because we wouldn't bring anyone new. So we literally just went out with a bang. We knew it was going to be it, and we hit it hard.
Hollywood.com: Anything exciting coming up in the next few episodes?
JWoww: Deena's arrest is f***ing hysterical. It's hysterical. I can't wait for everyone to see it.
Hollywood.com: How was it saying goodbye to everyone?
JWoww: It's upsetting, you know. And we cried, we had a big cry after our last day. You know, it is bittersweet but we know that it's only the beginning. Even though we won't be living together as eight people, we'll still keep in contact.
Hollywood.com: With the presidential election coming up, if you had to pick who was the sexier candidate, who would you pick, Obama or Romney?
JWoww: Obama.
Jersey Shore airs Thursdays on MTV.
Follow Sydney on Twitter @SydneyBucksbaum
[Photo Credit: MTV]
More:
How 'The Daily Show' and 'The Colbert Report' Handled the Presidential Town Hall Debate
'Arrow' Episode 2: Steering Clear of the 'Secret Circle' Conundrum
'American Horror Story' Review: The Scare Is Never as Good as the First Time
From Our Partners:

Giuliana and Bill Rancic Planning for Baby No. 2: 'I Would Love a Girl,' Says E Host
(Celebuzz)

Kate Upton Flaunts Major Cleavage in Vogue's November Issue — PHOTOS
(Celebuzz)