'Jersey Shore' Star Vinny Gets His Own Talk Show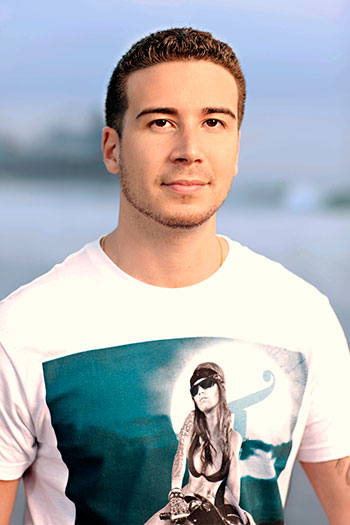 Now that their show is in its final season, the stars of Jersey Shore are beginning to look for new life following the iconic MTV reality program. Snooki and JWoww have kicked off their own spinoff series (to begin a second season this January), as has Pauly D. Mike "The Situation" Sorrentino will likely explore no deficit of new projects in his post-Shore career. And the classiest one of the bunch, Vinny Guadagnino, will be playing host to his very own talk show.
Guadagnino will host The Show With Vinny, an MTV talk show series that will actually conduct interviews in and shoot from his own family home in Staten Island, N.Y.. Alongside Vinny, some of the Jersey Shore fixture's family members will feature, including his mother Paula and uncle Nino. As promised by MTV, the program will feature "celebrities [letting] their guard down to have a meal and a candid conversation about whatever comes up complete with lots of commentary from Vinny's peanut gallery of loved ones."
In addition to The Show With Vinny, Guadagnino will also host an MTV fundraising special Restore the Shore, which will benefit Vinny's famed locale of Seaside Heights, N.J., in the wake of the damages imparted by Hurricane Sandy.
[Photo Credit: MTV]
More:
'Jersey Shore' Premiere Ratings Take a Nosedive
Pop Culture Debate: What's Grosser, the 'Jersey Shore' Jacuzzi or 'Honey Boo Boo' Mud Pit?
MTV's 'Catfish' TV Show Succeeds Where The Film Failed

'Twilight Saga: Breaking Dawn — Part 2' Star Kristen Stewart on 'Twilight' Finale: I'm 'Desperate' For a Job Now (VIDEO)
(Celebuzz)