Jess and Nick's Lip Lock On 'New Girl' Ranks As One Of The All-Time Best TV Kisses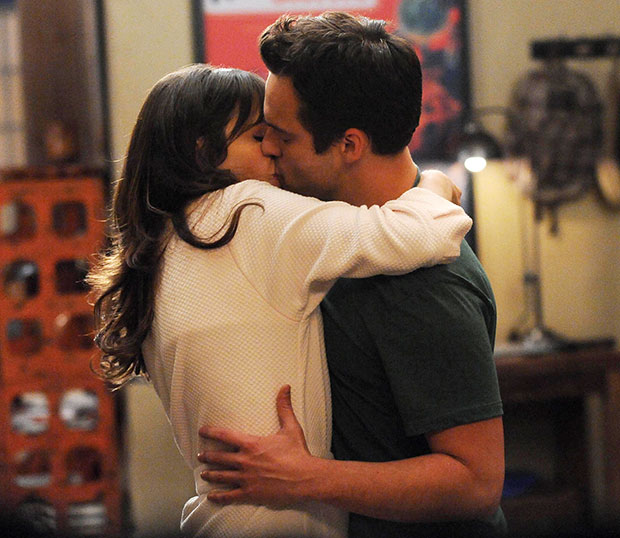 New Girl broke all the rules of great TV kisses last night. Not only did they do it when viewers were least expecting it (the episode, "Cooler", happened halfway through Season 2 instead of saving it for a big finale cliffhanger) and they did it without any gimmicks like dream sequences or swelling music (it happened organically and felt incredibly realistic as the sounds of heavy breathing and tangling mouths were all fans could hear over the sounds of their own beating hearts). That said, it's joining the ranks of the all-time best television kisses for that very reason. Plus, it was just plain smokin' hot. Relive the amazing moment again (and again) below:
Still, the rule-breaking and jaw-dropping union of Jess (Zooey Deschanel) and Nick (Jake Johnson) most certainly harkens back to some of the classic television kisses and couples. They've had a slow building sexual chemistry since Season 1, they're leaving fans with some serious questions about their future, and, above all, it got our hearts racing and made us remember why we get so invested in the television shows and characters we love in the first place. 
As of now, the future of Nick and Jess is still up in the air, but we can say for certain that they provided one of the most memorable and scorching TV smooches ever from will-they-won't-they pairs. Check out the rest of the rest of the best — from Ross and Rachel on Friends to Sam and Diane on Cheers — here:
[Photo credit: Fox]
More:
'New Girl': The One Where Nick and Jess…
'New Girl' Star Max Greenfield: Is There Hope For Schmidt and Cece?
Zooey Deschanel and Ben Gibbard Divorce Finalized: Zooey Asks Siri for Dating Advice
You Might Also Like:

20 Hottest Celebrity Bikini Bodies

Joe Biden?! Surprisingly Hot Young Photos of Politicians