Please, Jessica Chastain, Take a Role in 'True Detective' Season 2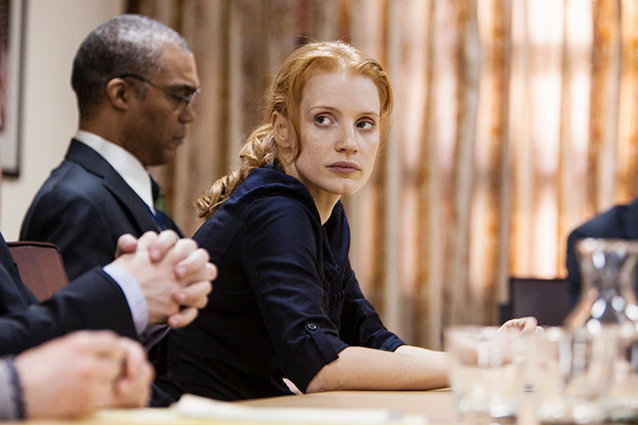 Columbia Pictures via Everett Collection
HBO's True Detective shocked the world this past winter with its depiction of a seedy Louisiana that was low on morals and high in corpses. It was all the things a detective drama should be: moody, atmospheric, gripping, darkly funny, sometimes all in the same scene. It's inaugural eight-episode season was really something special, mostly due to the stellar creative team running its engine. Being that it's an anthology series, True Detective wasn't a show that had the luxury of easing through a freshman slump, waiting to work out the kinks and really delivering something special, maybe next season. The show had to hit hard out of the gate, and it did. Creators Nic Pizzolatto and his director Cary Joji Fukunaga delivered a wunderkind of a show: a contained singular vision that felt immaculately crafted. Every shot, scene, and line of dialogue obsessed over and placed into action with the upmost care. Its a marvel of television engineering.
But even beyond Pizzolatto's scripts and Fukunaga's direction, it's the actors that really kept True Detective running at such a high level. Hearing Rust Cole wax poetic with misanthropic asides wouldn't be nearly as interesting if the words weren't coming out of Matthew McConaughey. And similarly, would we even care all that much about conflicted family man Marty Hart if his internal struggles weren't externalized by Woody Harrelson? This is a production that deserves great actors to bring it to life. This is a production that deserves the talents of someone like Jessica Chastain.
Following The Nerdist's reporting that Chastain had been offered a leading role in Season 2 of the series, we got the downer report from E! that she has turned down the gig. We're not surprised that she was offered the part; Chastain is easily in the same caliber of actors as the two leads from last season. She has a resume full of strong female characters, and easily has the magnetism needed to headline the next bizarre mystery the series will send us on. Her strong-willed character in Zero Dark Thirty would feel right at home on Pizzolatto's next crime beat. Her casting would also fix True Detective's biggest issue: its treatment of women. For all of its merits, True Detective is a deeply male-centric program, and the women in that show's version of Louisiana were often relegated to mistresses, strippers, prostitutes, and corpses, all in various states of undress. It's certainly a large blight on the first season, but Chastain headlining a second season more cognizant of its depiction of women is definitely the right move for the series.
The one and done nature of True Detective's anthology structure would also mean that appearing in the second season of the series wouldn't be a huge commitment for the actress. She wouldn't be stuck languishing in a series that went on too long past its time. She could do the season, and then leave to focus on film again. Taking part in the series could also be a huge boon to her career. Starring as a lead in the first season of the series was a huge step in Matthew McConaughey's "McConnaissance." It's only been a few months since we first met the character, and Rust Cohle has already become one of McConaughey's most recognizable roles. While the actress is already well known in the film world, a high profile role on television could change her into the household name. Just look at Bryan Cranston.
It's questionable gender issues aside, True Detective is fantastic. Without dragons, zombies, or whatever else, HBO managed to create event television — the kind you still crowd around the television set for every week — by virtue of simply being great. Now that the A-list of Hollywood is flocking to limited series on television, it only makes sense for Chastain to be a part of one of HBO's best efforts. So please, Ms. Chastain, will you be our next True Detective?