'Idol' Star Jessica Sanchez on 'Glee': Best Regionals Rival Ever?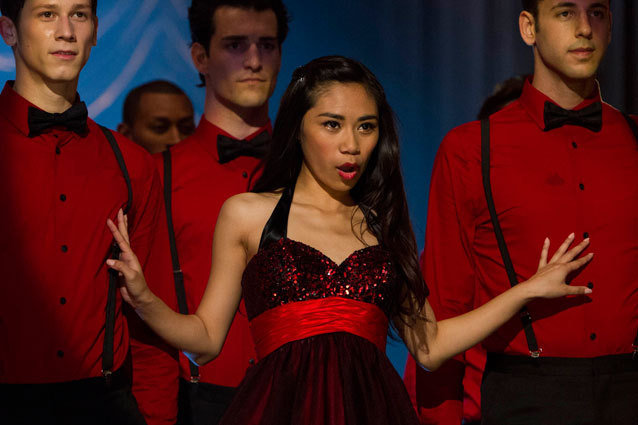 American Idol's Season 11 runner-up and tiny vocal powerhouse Jessica Sanchez made her Glee debut at Regionals during Thursday night's finale, and she was really good. But was she too good? 
The Gleek Perspective: Sanchez Should Have Won That Trophy
This might be un-American of me to admit, but I've never seen a single episode of American Idol. Gasp! I know, crazy right? On the other hand I have seen every single episode of Glee multiple times and can easily have hour-long discussions on the simplest of McKinley High moments. So when I learned that American Idol superstar Jessica Sanchez would be joining Glee in the Season 4 finale as a rival singer, I really didn't have an opinion and here's why: every year, Glee tries to scare us at Sectionals, Regionals and Nationals with these guest stars who have great voices and killer dance moves. And every year, the New Directions narrowly beat out their amazing competition, thus always remaining the heroic underdogs.
I knew that Sanchez would be good, but this year Glee made a huge mistake — she was too good. Sanchez lead the Hoosier Daddies in two heart-pumping, hip-shaking, perfectly choreographed numbers and just as the New Directions feared, she had a hugely wonderful voice. This wouldn't have been a problem if the glee club had their old powerhouse singers of the past — Rachel, Mercedes, and Santana — but this year, Sanchez blew our group out of the water. What's worse is Glee awarded the first place trophy over to the New Directions thinking that we'd be happy that our group of misfits once again snagged the top spot. Like I said, I've never seen an episode of American Idol, but if Fox wants Glee fans to actually get excited again, maybe they should bring on more of their reality stars over to the halls of McKinley — we could certainly use some of the talent right now.
The Idol Fan Perspective: Jessica Sanchez is Better Than Rachel Berry
Sorry, Lea Michele. But aside from the glory of Season 1, no Regionals performance you were ever involved with reached this level. Idol fans know Sanchez can work a stage like no other performer, gobbling up each inch of spotlight with her infectious brand of sass. But it's not just about attitude. Sanchez has faced off against multitudes of talented singers before ever stepping foot in McKinley High to combat the New Directions, and she almost always emerges the victor (unless her competitor is an impossibly cute folk singer like Season 11 winner Phillip Phillips). Sanchez has got incredible pipes, and some of the best vocals I've ever seen on this show and on Idol. 
Did they really think we'd buy the New Directions beating out this tiny dynamo for the trophy? Because I can tell you one thing, Glee writers, I sure as hell didn't.
What's your take? Was Sanchez really better than the New Directions? Were you happy to see her onstage again, Idol fans?
Follow Leanne and Kelsea on Twitter @LeanneAguilera and @KelseaStahler
More:
We Charted All of the 'Glee' Hookups – Infographic 
'American Idol' Top 2 Results Shocker
Does Angie's Elimination Mean Candice Will Win 'Idol'?
---
From Our Partners:


What Happened to 33 Child Stars (Celebuzz)


40 Most Revealing See-Through Red Carpet Looks (Vh1)