Can You See the People Sing? Jimmy Fallon Has A Sexy Lip Sync-Off with John Krasinski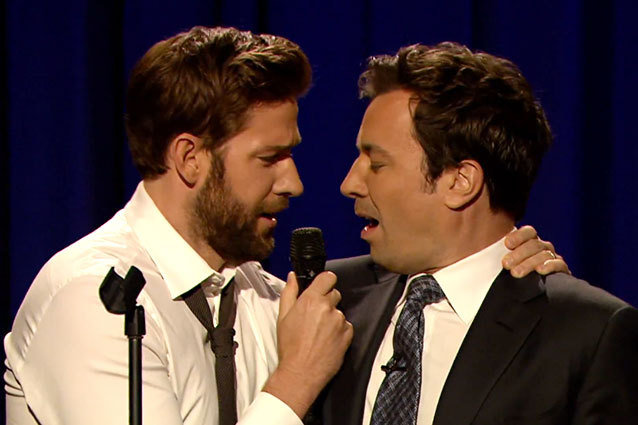 In the music industry, the controversial act of live lip-syncing is not only frowned upon, but in some cases it can be nothing short of a career killer. (See: Ashlee Simpson. No, really, watch it again, it's still as uncomfortable as you remember it). In comedy, however, it's pure gold.
Case in point: The Office star John Krasinski stopped by Late Night on Tuesday night and challenged host Jimmy Fallon to a lip sync-off. The rules were that each man would "sing" three songs, and whoever faux-crooned with the most style (read: impressed Questlove the most) would win. The results were… well, pretty damn amazing, and unexpectedly sexy (Emily Blunt, you are a lucky lady).
While Fallon gave it his all (his hand motions during his rendition of Melissa Manchester's "Don't Cry Out Loud" were nothing short of inspired), Krasinski went for the jugular. He "rapped," he stripped (twice!), and he pretty much gave Justin Timberlake a run for his money, not only as a viable boy band member (now that The Office is over for him, maybe he really can tour with Boyz II Men) but as Fallon's singing partner in crime. Even if he wasn't really singing. Which is all the more impressive. Let's hope this is a recurring segment on the show. 
Watch: 
Follow Aly on Twitter @AlySemigran
More: 
'The Office' Celebration in Scranton Reunites Steve Carell, John Krasinski, Jenna Fischer, and More
'The Office' Wraps Shooting: Cast Shares Finale Secrets
John Krasinski to Appear on 'Arrested Development'  

---
From Our Partners:


Watch Justin Bieber Attacked in Dubai (Celebuzz)


33 Child Stars: Where Are They Now? (Celebuzz)