Jimmy Fallon Addresses Upcoming 'Tonight Show' Gig In 'Late Night' Monologue, Thanks Jay Leno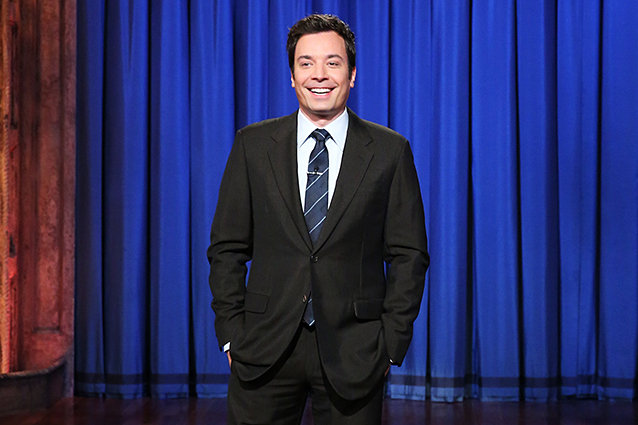 Just hours after it was announced that he would take over Jay Leno's post at The Tonight Show in 2014, Jimmy Fallon, who has always avoided stepping on any toes in the late night wars, thanked his predecessor in his pre-taped opening monologue on Wednesday. 
RELATED: NBC To Replace Jay Leno With Jimmy Fallon In Spring 2014
In a transcript released by NBC, Fallon opened his show by telling his audience, "This is Late Night with Jimmy Fallon…for now. You guys probably heard the news  — I'm going to be taking over the Tonight Show next February! But don't worry. Until February, our focus is right here on whatever this show is called."
He continued during the taping, showing gratitude to everyone involved: "I want to thank everyone here at Late Night, the staff, the crew, and, of course, The Roots. I have to say thanks to Jay Leno for being so gracious. It means so much to me to have his support." (While Jimmy Kimmel is certainly no Leno supporter, he sent his well-wishes to the incoming Tonight Show host on Twitter, posting "congratulations to my dear, sweet @jimmyfallon – a formidable rival and an incredible lover.")
RELATED: Fallon vs. Letterman: A New New York Showdown 
The host, who also thanked his fans for "staying up to 12:35 a.m. and watching us," was, unsurprisingly, more amiable about the news than Leno's longtime rival David Letterman. During his Late Show monologue, Letterman — who has a history with Leno and NBC (that's putting it lightly) — joked to his crowd, "It seems like we just went through this. Didn't we just go through this? Jay Leno now is being replaced, and this is the second time this has happened. I mean, it's crazy. He's being replaced by a younger late night talk show host. What could possibly go wrong? Honestly. They had pretty good luck with this in the past." 
RELATED: David Letterman Rips Jay Leno, NBC in Monologue 
Letterman, obviously referring to the Conan O'Brien (who has not yet made a statement about the news) Tonight Show takover and subsequent take back debacle from a few years ago, added, "NBC, God bless 'em, announced the official date for Jay Leno's departure. No mention of his official date of return, however." Only stinging zingers are fired in the late night war. 
[Photo credit: Llyod Bishop/NBC]
---
From Our Partners


See 'Game of Thrones' as 'Mad Men' (Vulture)


Hayden Panetierre Bikinis in Miami (Celebuzz)