Jimmy Fallon's 'Downton Abbey' Parody: Welcome to 'Downton Sixbey'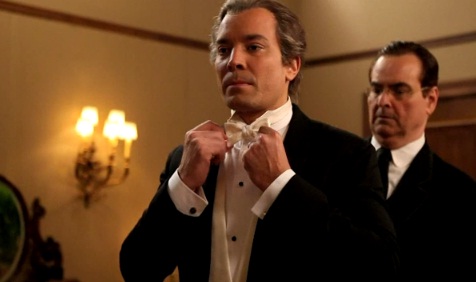 It's a wonder it took Jimmy Fallon this long to put together a parody of Downton Abbey, the PBS series that stole the hearts of television nerds everywhere, but perhaps he just needed those two seasons to finally get the names of all 19 regular characters straight. 
Nevertheless, his parody,
Downton Sixbey
(get it? as in Studio 6B?), is worth the whopping eight-minute run-time. Face it: as much as we love this show, it was practically created to be parodied — and at least this one doesn't involve any heart-curdling
Arby's melts.
Sixbey finds Fallon in the lordly-er, Early role as the Earl of Downton Sixbey with his surprisingly hot wife, Brooke Shields. And then there's Fred Armisen in a wig, thrown in for good measure. The Earl hosts a dinner while the servants, er, writers struggle to write better Kardashian jokes. Right, because that's what every series about an early 20th century Yorkshire estate needs: more Kardashian. 
We may have to wait until the new year — as in 2013 — to get our real Downton fix, but until then we can enjoy Fallon's jaunty parody and subsequently spend hours trying to wash the image of Armisen in a dress out of our brains. That'll keep us busy. 
[Photo: NBC]
More:
Jimmy Fallon Presents: Tebowie
Jimmy Fallon Does a Dead-On Charlie Sheen Impression