Fallon Vs. Letterman: A New New York Showdown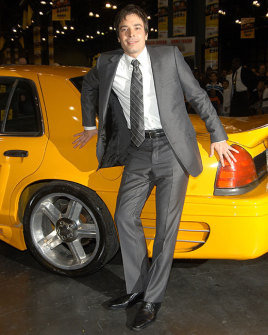 New York has seen its fare share of showdowns: Yankees and Mets. DiCaprio and Day-Lewis. The street meat guys at the opposite corners of 53rd and 6th. But never before has the Big Apple landed a faceoff with such explosive promise as that of Jimmy Fallon and David Letterman. After a storm of rumors that Jay Leno would be ousted from his spot hosting The Tonight Show, it was announced on Wednesday that Late Night headliner Fallon would be officially taking Leno's place come 2014. With the institution of the young Saturday Night Live vet as Tonight's new host, NBC will be moving its mainstay program from its longtime residence of Los Angeles to Fallon's present turf of New York City.
Which just so happens to also be the stomping grounds of CBS' rival program The Late Show, led for years by Leno's biggest and most outspoken adversary, David Letterman. Anyone tuned into the late night circuit is well aware of the longstanding animosity between Letterman and Leno, dating back to the latter's surprising promotion to Tonight Show host following the retirement of Johnny Carson — many assumed the position would go to Late Night host Letterman… Letterman included. But now that Leno is bowing out for good (yes, we've heard that before, but it seems to be for real this time), will Letterman's rage find a target in Fallon? And, if so, will this enmity be augmented by the proximity of the two hosts?
RELATED: NBC to Replace Jay Leno with Jimmy Fallon
We imagine that the pair's shooting in the same city — especially a city with such an immaculate and reliable public transportation system! — will be condusive to face-to-face battles, taking form in the most New Yorkian of fashions. Imagine this…
Pickleback drinking contests, Cash Cab competitions, pigeon races, SantaCon brawls, pizza tastings, graffiti-offs, De Niro impressions, celebrity scavenger hunts (5 points for Sarah Jessica Parker!), raves, entering the subway with a monthly pass and taking the train one stop then seeing if you can run back to the original station before the 16-minute block on your card is up, stickball games behind P.S. 26. The opportunities are endless, fellas. May the best host win.
Follow Michael Arbeiter on Twitter @MichaelArbeiter
[Photo Credit: Jamie McCarthy/WireImage]
---
From Our Partners


See 'Game of Thrones' as 'Mad Men' (Vulture)


Hayden Panetierre Bikinis in Miami (Celebuzz)