Jimmy Fallon Will Launch a Primetime Music Special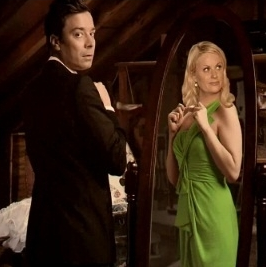 What's better than watching Jimmy Fallon's hilarious musical parodies? Getting the chance to watch them again, of course! And that very wish is about to be granted. Get your DVRs ready, because according to The Huffington Post, the Late Night host's famous collaborations will be celebrated on NBC next week with a one-hour primetime special on Wednesday, July 25.
As part of the event, Fallon will bring back some of our all-time favorites, including "Tebowie," his Tim Tebow/David Bowie character mashup, as well as Neil Young singing the Fresh Prince of Bel-Air theme song. Fallon is also scheduled to recap the infectious "History Of Rap" with Justin Timberlake, along with duets with Paul McCartney and Bruce Springsteen.
Which Jimmy Fallon parodies are you looking forward to seeing? Personally, I could go for another rendition of Justin Bieber with "(It's Not My) Baby." Sound off below on some of your personal favorites!
The special will air Wednesday, July 25 at 10 PM (EST) on NBC.
Follow Kelly on Twitter @KellyBean0415
More:
Carly Rae Jepsen Performs 'Call Me Maybe' With Jimmy Fallon, The Roots — VIDEO
Will Smith & Jimmy Fallon Sing ' Gettin' Jiggy Wit It' & 'Men in Black' Old School Style
Jimmy Fallon Presents: A History of Anderson Cooper's Giggle Fits — VIDEO