Jimmy Kimmel Goes After Jay Leno Again: 'He Totally Sold Out'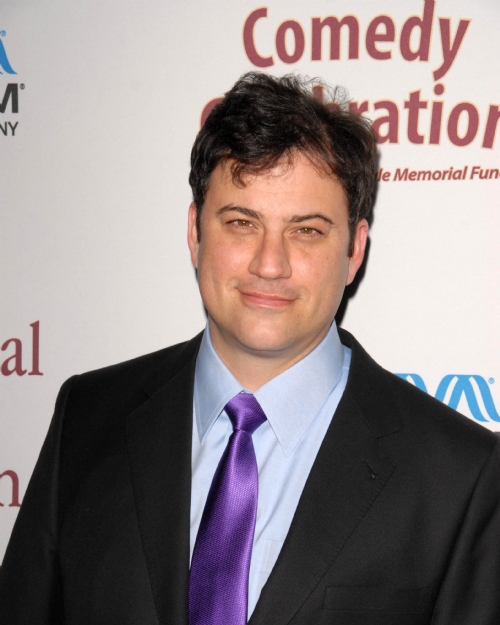 At this point it's amazing most major news organizations don't have a Late Night War correspondent, as the competing hosts may never cease fire. Jimmy Kimmel, who graces the cover of the latest issue of Rolling Stone (okay, perhaps "grace" isn't the right word to use when someone's butt crack is on full display), has once again taken aim at late night foe Jay Leno. 
The
Jimmy Kimmel Live
host, who will soon compete with Leno in the same time slot when his show moves to 11:35 PM, said of the divisive 
Tonight Show
host, "Leno hasn't been a good stand-up in 20 years. As a comedian, you can't not have disdain for what he's done. He totally sold out." Leno had no comment for the
RS
story. (If only someone had thought to
tape his reaction
, Kimmel could use it for his famous segments.) 
This is hardly the first time Kimmel has openly expressed his disdain for the man who unceremoniously took back his show from his successor Conan O'Brien and ruined a good chunk of the 90s with the Dancing Itos. During a conference call last month, he put it simply to reporters, "As much as he would like it, Jay Leno can't stay on television forever." 
Surprisingly enough, Kimmel's statement about Leno's long-running stand-up act varied wildly from that of Leno's longtime rival and his own longtime comedy hero
David Letterman
, who recently sat down with Oprah Winfrey and said, "He is the funniest guy I've ever known. Just flat out, if you go to see him do his nightclub act, just the funniest, the smartest, a wonderful observationist and very appealing as a comic." But don't go calling this a late night peace treaty, Letterman also called Leno "an unusual fellow….he is also maybe the most insecure person I have ever known." 
Kimmel moves into both Letterman and Leno's territory beginning January 8. 
[Photo credit: DailyCeleb.com] 
More: 

'Buckwild' Stars Talk 'Jersey Shore' Comparisons: 'I Ain't Paying For No Tan' (EXCLUSIVE VIDEO) (Celebuzz)

Oscars 2013: Best Picture Race Is Down to 'Lincoln' Versus 'Zero Dark Thirty' (Moviefone)