'Jimmy Kimmel Live' In New Timeslot: No Leno Attacks?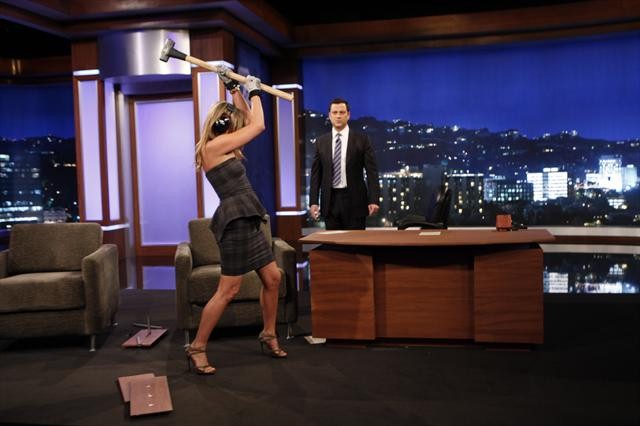 After a decade at midnight, ABC's Jimmy Kimmel Live made the move to the 11:35 PM time slot Tuesday night, becoming a direct rival of The Late Show With David Letterman and The Tonight Show With Jay Leno. While a few jokes about his new foes were expected, Kimmel didn't slam either Letterman or Leno (for once). Instead, he was on his best behavior and kept the jokes about himself… and Honey Boo Boo, because, of course.
Kimmel did poke some fun at his 25-minute move, saying, "I'm now 25 minutes closer to my lifelong dream of hosting The View." But he took a minute to get serious, and while he didn't outright acknowledge his new rivals, he did hint at the task before him. "I understand what's at stake here and I don't take that lightly," Kimmel said. He then brought the comedy back with his segment, Lie Witness News, where he asked random people on the street if they had been watching his new show — even though it was impossible since it hadn't aired yet. 
Kimmel also brought back a fan favorite segment, Celebrities Read Mean Tweets, and recruited a whole roster of famous folks to read insulting tweets about themselves. The reactions from Selena Gomez, Eric Stonestreet, Simon Cowell, Jessica Biel and more were hilarious, but Bryan Cranston took the cake. "'Malcolm in the Middle? More like mushy in the middle. Lose some weight, Heisenberg!' I had a good chuckle over that one," Cranston said with a smile. Then he went full on Breaking Bad: "I'm coming for you, @TXGRIZZ." 
Jennifer Aniston had the honor of being the first guest on Kimmel's first post-move show, but did some serious damage — joking that she thought she was the last guest on his old show, she came out with a sledgehammer, and completely destroyed his new desk. "That wasn't a very well-built desk, was it?" Aniston said. She did bring along some great photos from her vacation with fiancé Justin Theroux, Kimmel, and John Krasinski; including photos from the men's spa day. Aniston also proved her haircutting expertise (she is the woman who brought us The Rachel, after all), and gave Kimmel quite the professional trim on camera. Check out a clip below:

Musical guest No Doubt performed "Push and Shove," the title track from their new album, and closed out the night with a nostalgic performance of "Hella Good." The lights, the wardrobe, the dancing, and that iconic tune took the audience back to the early aughts… in a great way.
Still, Kimmel's show didn't feel complete without a least one Leno knock. C'mon, Kimmel — time to take a page from Conan.
[Photo Credit: Randy Holmes/ABC]
Follow Sydney on Twitter @SydneyBucksbaum
More:
10 Bitchiest Moments From This Week's Don't Trust the B—- in Apt. 23
TV Tidbits: 'Honey Boo Boo' Breaks More Records, Lance Armstrong OWNs Up
'American Idol' Judges Don't Do a Very Good Job of Dispelling Feud Rumors

Megan Fox's 12 Hottest Moments (Moviefone)