Jimmy Kimmel Recruits Matt Damon, Oprah, Channing Tatum for 'Movie: The Movie 2V'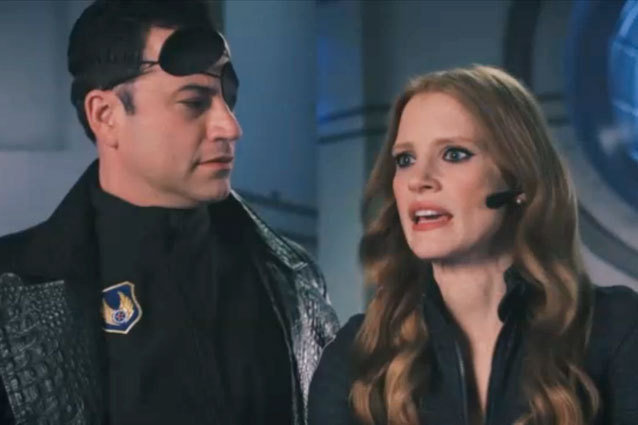 Last year on Oscar night, late-night host Jimmy Kimmel unveiled the star-studded trailer for the ultimate cinematic experience, Movie: The Movie. The nine-minute clip boasted A-list actors such as George Clooney, Meryl Streep, and Tom Hanks and has since reached more than 20 million views on YouTube.
Not to be outdone by his previous success, late Sunday night Kimmel debuted the highly anticipated (by some) trailer for his sequel Movie: The Movie 2V. "When you have a big success in Hollywood, there's only one reasonable thing you can do — and that is cheapen it with a sequel," the host told the audience at his post-Oscar telecast edition of Jimmy Kimmel Live.
RELATED: Oscars 2013: See the Winners Here!
This year's faux-trailer featured a "sexpocalypse" theme in which sexy vampires, zombies, mummies, and leprechauns banded together to destroy the world with their collective good looks and thirst for human flesh. However, despite gathering a plethora of beautiful people together, Movie: The Movie 2V couldn't hold a candle to last year's trailer.
Here are some of the highlights:
Bryan Cranston played an armless piano savant who thrilled audiences with his one-note nose performance. John Krasinski was bitten by a radioactive cocktail shrimp, and naturally turned into a crime-fighting superhero called, "The Shrimp." Oprah portrayed our first female president and nonchalantly hung up on Kimmel when he and Jessica Chastain called to ask for her help with the sexpocalpse.
Matt Damon appeared briefly in a green screen suit and was told to pretend like he was eating a "really big" sandwich. Needless to say, he stormed off set uttering his new classic catchphrase, "F**k you Kimmel." Amanda Seyfried used her Les Miserables pipes to sing about the problem and then quickly jumped into a breakdancing number.
RELATED: Seth MacFarlane's Oscar Monologue: What'd You Think?
Gerard Butler channeled his inner Liam Neeson as a father desperately searching for his daughter, only to realize that she had been strapped to him in a Baby Bjorn the entire time. And spoiler alert: Channing Tatum defeated the army of hot supernatural creatures by using his own sexiness — a.k.a. a beam of light coming from his crotch — against them.
But wait, there's more! Bradley Cooper, Bruno Mars, Kerry Washington, Salma Hayek, Jude Law, and Samuel L. Jackson made brief cameos as well.
Overall it seemed like Movie: the Movie 2V was missing something, and the answer is blatantly obvious: Jennifer Lawrence.
Check out the full trailer for Movie: The Movie 2V below and then hit the comments with your thoughts!
Follow Leanne on Twitter @LeanneAguilera
[Photo Credit: ABC]
---
Oscars 2013 Special Coverage
---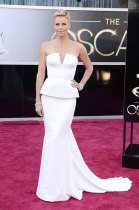 Oscars 2013 Best Dressed: PICS!
• Anne Hathaway: Oscar's Worst Dressed?
• Seth MacFarlane's Opening: How'd He Do?
• Adele's Performance Gets Mixed Reviews
• 15 Oscar-Winning Nude Scenes
• What Happened to Renee Zellweger's Face?
• Oscars 2013: The Full Winners List
• The Winner, According to You
---
From Our Partners:


25 Most Scandalous Celeb Twitpics (Vh1)


33 Child Stars: Where Are They Now? (Celebuzz)