Joe Biden Shows How to Find Love While Voting (And Reads Letterman's Top 10)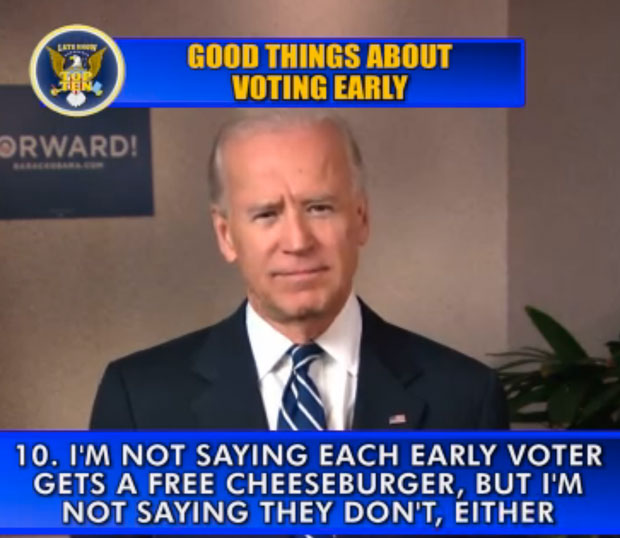 What better way to clinch the deadlocked election in its final moments than to appeal to the heart?
Vice President Joe Biden
stopped by the
Late Show With David Letterman
(via pre-taped segment) to read off Letterman's legendary Top 10. The topic? Why voting early (thanks to a deadline extension due to
Hurricane Sandy
) is a good idea. And this time, Uncle Joe went straight for the heart: one of his reasons for voting early is all about finding love… in the voting line at the polls. 
In a week that's been largely colored by strife and shock at the level of disaster on the East Coast (a factor Letterman's audience-less broadcasts earlier in the week served to bring into stark relief), it's nice to see the show return back to its hokey, silly antics. And who better to do the job than a man who's working tirelessly to retain his spot in the White House (and who apparently has a soft spot for silliness)? Biden's list may be total malarky, but it makes us all feel a little better, doesn't it?
[Photo Credit: CBS]