John Oliver Is Leaving 'The Daily Show'… To Host A Show of His Own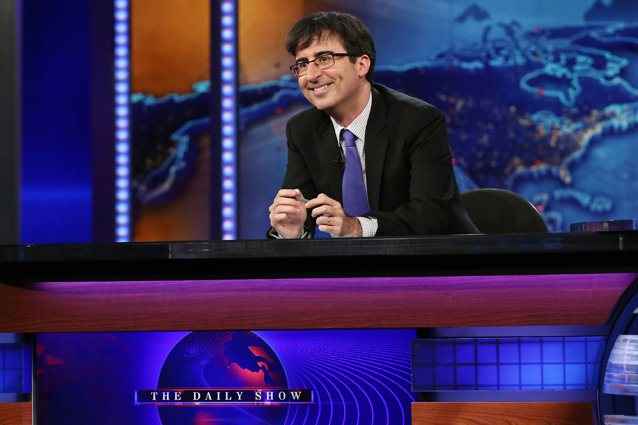 Neilson Barnard/Getty
The Daily Show's Senior British Correspondent John Oliver is leaving the program after almost eight hilarious years. But before you start crying into your teacups, Oliver's departure doesn't mean he's done appearing on our television screens… quite the opposite, in fact. Oliver is set to host a weekly topical comedy show for HBO starting in 2014. The network's bosses were so impressed by his work filling in for Jon Stewart this summer that they pursued Oliver for a show of his own, even though they weren't looking to add another talk show. No details about the title or format have been revealed yet, but they did confirm that it will air on Sunday nights. 
Oliver said in a statement that he was "incredibly excited to be joining HBO, especially as I presume this means I get free HBO now. I want to thank Comedy Central, and everyone at The Daily Show for the best seven and a half years of my life. But most of all, I'd like to thank Jon Stewart. He taught me everything I know. In fact, if I fail in the future, it's entirely his fault." Since he started as a correspondent, Oliver has been one of The Daily Show's biggest breakout stars, and his hosting stint lead to him being dubbed the "heir apparent" to Stewart's chair. There were even rumors that CNN was interested in having him host a talk show, so it was only a matter of time before Oliver was hosting his own show. 
No exact date for Oliver's departure from The Daily Show has been given, although based on his statements, it seems as if his tenure has already come to an end. To tide you over until Oliver is back to satirize the week's news, you can still catch The Daily Show every night at 11:00, or watch the most famous segment of his time behind the desk, when he took on Anthony Weiner during the New York mayoral race, below.