Jon Hamm Nearly Lost 'Mad Men' Role Because He Wasn't Sexy Enough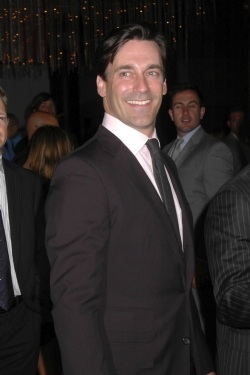 Mad Men has had a major cultural impact, and one of the show's biggest accomplishments (aside from bringing back retro fashions) is turning star Jon Hamm into a sex symbol. Yet amazingly, his charms weren't always apparent to those casting the show.
Hamm had to audition seven times for the role of Don Draper. In a preview clip from Bravo's Inside the Actor's Studio, show creator Matt Weiner reveals that after one audition, "someone said he wasn't sexy." We're talking about the same Jon Hamm, right?
Somehow, the actor has managed to bed quite a few ladies on the AMC show — and James Lipton is counting. The host did a tally while rewatching the Mad Men before his interview with the cast, and discovered that Don has romanced 13 women on the show. (Only 2.6 ladies per season? Seems a bit low!)
Watch the rest of the preview here:
Inside the Actor's Studio airs on May 14 on Bravo.
More:
'Mad Men' Star Rich Sommer Discusses 'Happy Don'
Daniel Radcliffe Could Play Young Jon Hamm in British Miniseries
'30 Rock' Live Redux: The Live Blog!
[The Wrap]