Jon Hamm, Paul Rudd, and Adam Scott Create 'The Greatest Event in Television History'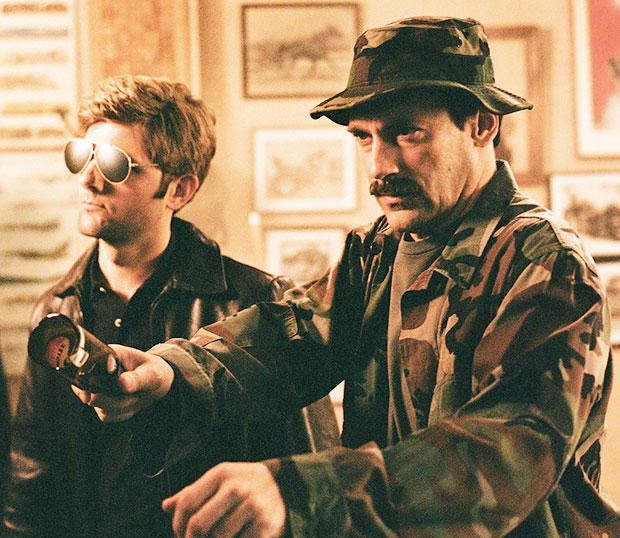 As the residence of short-form comedy on television continues to expand, it seems more and more like the ideas we catch on the networks most conducive to this growth are born from little beyond a hearty chuckle and a half-baked "You know what would be funny?" The concept behind The Greatest Event in Television History — a 10-minute special that aired on Adult Swim at 12 AM Thursday night/Friday morning, seems like it was anything but over-thought. The idea is simple, borderline nonsensical, and easily summed up in a harebrained one-liner. And that's why it works so well.
The premise: a shot-for-shot remake of the theme song from the 1980s detective series, Simon & Simon. That's it: no alterations of any kind, except for the recasting of the Simon brothers (in their silent montage of goofy quick shots) with contemporary actors Jon Hamm and Adam Scott. Presented as a passion project of "filmmaker" Paul Rudd, the rebooted theme song is preceded by an extensive behind-the-scenes documentary, hosted by a head-in-the-clouds Jeff Probst, who really lays on the gravity of the situation with fervor.
In the mockumentary (which is easily four times longer than the actual end product of Hamm and Scott reenacting the Simon & Simon intro), Rudd is portrayed as a temperamental lunatic, Hamm as an antisocial jackass (who eventually succumbs to a fatal, inexplicable decrease in body temperature), and Scott as an unappreciated novice desperate for the approval of his costar. Familiar comic faces like Kathryn Hahn, Paul Scheer, and Megan Mullally offer brief cameos (as does Aziz Ansari's headshot).
The entire ordeal, from the setting of the majesty at the start of the special to the revelation of the forthcoming Simon & Simon theme recreation about a minute or two in, might baffle. Even those familiar with Adult Swim's bizarre sensibilities may struggle to find the "point" at the center of this project, beyond casting three beloved big and small screen stars as entertaining jerks. In fact, as the mockumentary peters on, the jokes begin to forego oddball luster in favor of, simply, confusing nonsense. The team of Hamm, Rudd, Scott, and Probst just seem to be dallying around, instead of pooling their undeniable talents to create something weird and interesting.
But then hits the 8-minute mark of the special — the conclusion of the introductory behind-the-scenes examination, and the actual broadcast of the fruit of Hamm's and Scott's (or their characters') labors: a complete to-a-tee recreation of the classic Simon & Simon opening theme. No deviations of any kind, even in the name of parody. It's just Jon Hamm as Rick Simon, peering over restaurant menus, lighting cigars, and driving heavy machinery through burning buildings (as his predecessor Gerald McRaney had done), and Adam Scott as A.J. (equipped with aviators), kissing orcas, doing pull-ups, and being yanked mid-sentence out of an open doorway by his no-nonsense brother.
Once the remade theme hits, all efforts are understood. Though seemingly purposeless in its first watch-through, the lead-up mockumentary earns a new air of comprehension. For, although nothing new is really created from the old theme — no points made or original ideas spawned — once we begin watching the Hamm/Scott Simon & Simon, it's difficult not to admit one thing: for some reason, some very inexplicable reason, this is undeniably hilarious.
Not so much what the actors are doing, but the mere fact that they are doing it at all. The idea that these creative forces teamed up to put this project together. That someone did in fact say, "You know what would be funny? If we just remade the whole Simon & Simon theme. Shot for shot. With someone like… Jon Hamm." And then they did it. That's the majesty that television is becoming. Things that are just plain funny — for weird reasons, dumb reasons, or no identifiable reasons at all — can find their home on air. Just plain funny is good enough now.
It's something for which we should be very grateful, and highly excited. Even if The Greatest Event isn't your cup of tea, it's indicative of the new wave crashing down on TV. Passion projects, inside jokes, outrageous gags, truly bizarre material, it's all finding its place. It doesn't matter how accessible something might be; if it's funny to someone, it'll be funny to someone else. That seems to be Adult Swim's stance. And while it should be quite a ways before this attitude breaches the majority of the television industry, we know that there is indeed a place for ideas that are odd, dark, nerdy, and funny as hell for no discernible reason. And there are people, like Hamm, Rudd, and Scott, game to give ideas like that to the world. The Greatest Event in Television History? Maybe not, but it sure is indicative of one of a great new chapter of television history though which we're all lucky enough to be living.
Here's the original Simon & Simon theme. Picture Hamm and Scott in there, and you've got exactly what Adult Swim decided to give to us (thank you, Adult Swim).
More:
'It's Always Sunny in Philadelphia' Returns For Season 8! Meeeee-ow!'
Leanne's Spoiler List: 'Smash' Will Shake Things Up, 'Vampire Diaries' Gets Intense
'Nashville' Premiere Recap: A Diva Dip