Jon Stewart and Stephen Colbert's Coverage of the 2012 Election: We're Live-Blogging It!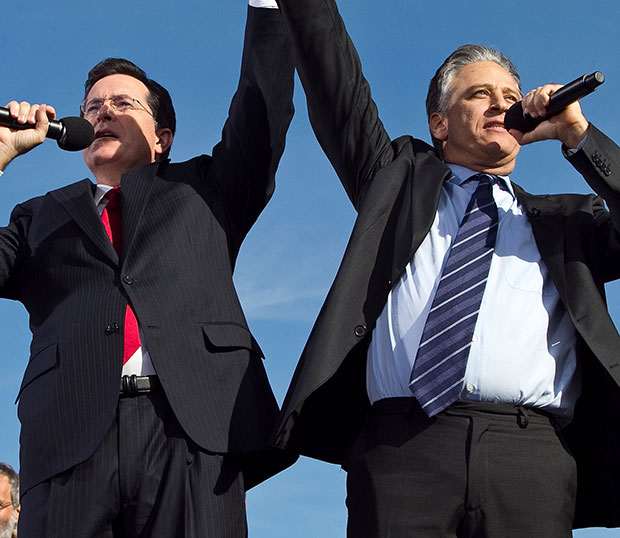 In case you hadn't heard, there's an
election
 taking over your television tonight. While the chances of seeing a hologram or hearing a complete and total disregard for facts aren't likely to be on their programs (unlike, say CNN or Fox News, respectively), we here at Hollywood.com simply can't stay away from
Jon Stewart and Stephen Colbert
.
Especially
not on election night. Both of the funny faux pundits' (fundits!) award-winning Comedy Central shows will be airing live on this historic evening bringing their patented brand of smarts, swift humor, truthiness, and utter lack of tolerance for those who stand high atop Bulls**t Mountain. 
Starting at 11 pm, Stewart and
The Daily Show
will broadcast their half-hour special
Election Night 2012: This Ends Now
, followed immediately by
The Colbert Report
's half-hour spectacularly named edition
Election 2012: A Nation Votes, Ohio Decides; The Re-Presidenting of America: Who Will Replace Obama? '012!
. It's going to be way more entertaining than CSPAN. Okay,
everything
is more fun than CSPAN, but the Stewart/Colbert doubleheader is going to infinitely more entertaining than CSPAN and we're not going to miss a single minute of it. 
Hollywood.com will be live-blogging The Daily Show and The Colbert Report's election coverage beginning at 11 PM ET sharp. We're going to keep you up to date with every Mitt Romney joke, every Barack Obama pun, every up-to-the-minute announcement, and every surprise. In the words of Mr. Colbert himself, "Woooooooooo!" It's going to be one hell of an interesting night, folks. 
12:02: Goodnight everybody! Hope you had as much fun watching these two as much as I did!
12:01: Colbert 2016! 
12:00: "For some tomorrow will be like Christmas, for others the fifth day of Hannukah. Or so my writers tell me." 
11:56: "Lock the door before my audience moves to Denver." 
11:54: Angus King = Independent winner AND a Burger King menu item. 
11:48: Why does everything sound better in a British accent? Wait! I mean…USA! USA! USA!
11:47: Fox News jokes are at a fever pitch, on Colbert and everywhere else. 
11:44: Guest Andrew Sullivan is soaking in the conservative tears of sadness. 
11:40: Barack won the Presidency, but Colbert is winning the Comedy Central coverage double-header. 
11:36: Mitt Romney graphic of him dancing with his horse was worth enduring this entire process. 
11:35: Animal Planet called it: Obie is the President again! Crowd. Goes. Wild. 
11:33: Aw! Happy birthday, Stephen Colbert's mom! We got you a President! 
11:33: Colbert should win Emmys on opening graphics alone. 
11:32: I could watch Stewart and Colbert banter all day. 
11:30: Colbert isn't hearing it!
11:29: "Perhaps the fever has broken." We got a fever. And the only prescription is more Obama and Daily Show. 
11:28: The mood is happy in that studio!
11:22: Have to flip between Comedy Central and — gasp! — cable news. Love hologram Jason Jones, but hate to miss this historic moment. 
11:16: Time to catch up, guys!! Obama has been re-elected!
11:12: 2016 Presidential numbers are in…and it's Hilary! 
11:11: Akin, Mourdock, and Walsh announcements and electoral count updates. Crowd is loving it. Hey, The Daily Show knows their crowd. 
11:07: The delay censors must have loved keeping up with Aasif. 
11:05: John Oliver might not be able to vote in our country, but he gets our vote. He's killing this riff on cable news technology. 
11:03: Cheers for Elizabeth Warren, Scott Brown gets tossed in the water, Tea party-style. WHY haven't they been broadcasting all night?
11:02: Romney gets "most of the Confederacy." LOL. 
11:01: Patrick Stewart and Jon Stewart are the best Stewarts. (Sorry, Kristen.) 
11:00 PM: Here we go! "If it ain't Brokaw, don't fix it!"
10:54 PM: Sorry, I couldn't even wait until 11. Anybody else SO ready for this? I couldn't take much more from the "real" cable news pundits. I could be hallucinating from watching nonstop coverage, but I'm certain at some point I saw James Carville perform voodoo and Sarah Palin animorphed into a cast member of Jersey Couture. 
[Photo credit: Paul Morigi/Getty Images] 
More: 
Which Channel's Election Results Should You Watch?

Channing Tatum to Be Named Sexiest Man Alive by 'People' (REPORT)
(Celebuzz)