Jon Stewart Takes A Break: How Are We Supposed to Face 'The Daily Show' Without Him?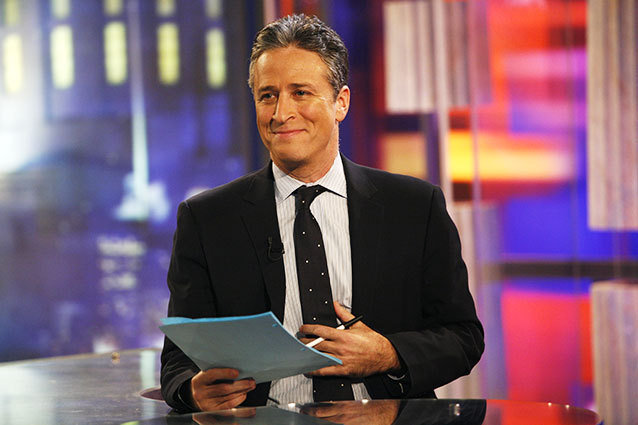 You know those moments when you and your friends are feeling extremely dark and down and you contemplate questions like "When you die, what does it feel like?" and "How will the world end?" and "What are we going to do on the inevitable day that Jon Stewart decides to leave The Daily Show?" These are all lofty questions we assume we're not going to have to deal with any time in the near future, but as of today, the worst one has become very, very real: This summer, we will witness The Daily Show Without Jon Stewart.
Comedy Central has confirmed to Hollywood.com that Stewart will indeed be taking a break from his newsy show.
RELATED: 50 Reasons Jon Stewart's Still Got It
I know, I know. I blacked out a little bit too. How can we enjoy The Daily Show if The Daily Show doesn't have Stewart, the man who made the show what it is today? This has happened once before, in 2004, when Stephen Colbert stepped in to take the reins while Stewart was out, but seeing as Colbert has his own show, Comedy Central's next answer to Stewart's absence will be Senior Green-screen-travel correspondent John Oliver. 
But, before we all lose our heads, it's important to acknowledge that this is just temporary. Stewart is taking a little hiatus from the show to direct a movie called Rosewater, which is the story of BBC journalist Maziar Bahari's 2009 trip to Iran to cover the country's elections, according to Deadline. Though Bahari was meant to be gone a week, the reporter wound up in an Iranian prison for 118 days where he faced brutal interrogation by a man who smelled of rosewater, hence the title. 
RELATED: Jon Stewart Missed the Petraeus Scandal: 'I'm the Worst Journalist'
While The Daily Show without Stewart may prove a trying summer task for his die-hard fans, there are two comforting notions to get us through this difficult time: First, Stewart is solidifying his station as a legitmate journalist (despite the joking nature of the Comedy Central show) by covering this reporter's harrowing tale. Second, we've survived a Stewartless episode once, we're strong enough to let the very funny Mr. Oliver guide us for a summer, aren't we?
Follow Kelsea on Twitter @KelseaStahler
---
From Our Partners:


Seal Is Dating the Pink Power Ranger: Report (Vh1)


60 Celebrity Bikini Bodies: Guess Who! (Celebuzz)