Jon Stewart Misses the Petraeus Scandal: 'I'm the Worst Journalist In the World'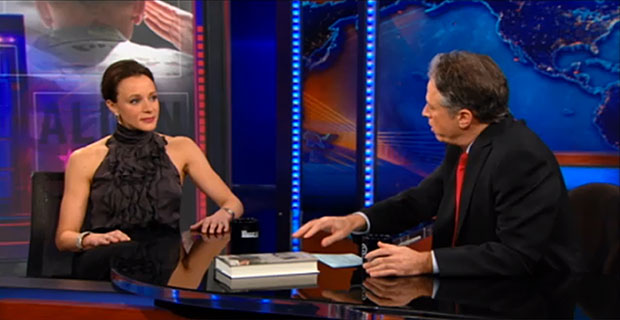 Poor Jon Stewart. Try as he might to stay ahead of the curve, the news world keeps throwing him curveballs. Recently, there was the five-minute delay that plagued The Daily Show in reporting the results of the presidential election. And now, that dang Petraeus! Well, more accurately, that dang Petraeus' biographer/mistress, Paula Broadwell.
Broadwell, the author of All In: The Education of General Petraeus with whom the former CIA Director engaged in an extramarital affair that ousted him from his government position, was actually a guest on The Daily Show back in January, right around the release of the biography. And in looking back upon the interview (which you can watch at the bottom of this page), there were some definite….hints….that something was going on.
But Stewart failed to make the connection. On Monday night's episode of The Daily Show, host Stewart lambasted himself for not getting the jump on this newsworthy scandal. In a dramatic outburst, Stewart declared himself "the worst journalist in the world!", more concerned with "staring at how well defined her arms were"—he even challenged her to a push-ups contest, and she accepted!—to notice the subtext of Broadwell's comments, which he describes now as filled with "innuendo after innuendo."
Check out Monday night's video here, and the original interview from January beneath it.
Jon Stewart's original interview with Broadwell, circa January 2012:
[Photo Credit: Comedy Central]
More:
Casting 'David Petraeus: The Movie!' (Because It's Bound to Happen)
Petraeus' Partner in Scandal: Why Paula Broadwell's Indiscretion Is So Curious
Jon Stewart and Stephen Colbert's Coverage of the 2012 Election: We're Live-Blogging It!

'Twilight Saga: Breaking Dawn — Part 2' Star Kristen Stewart on 'Twilight' Finale: I'm 'Desperate' For a Job Now (VIDEO)
(Celebuzz)