Josh Brolin Brings the Funk in 'Saturday Night Live' Promo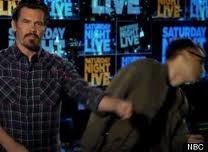 Brand fans, rejoice: The Great Josh Brolin Fatigue has finally ended. After taking more than a year off from his last project, 2010's brilliant True Grit remake, the Oscar-nominated actor is back in action. With two high-profile films on his agenda for 2012, including the upcoming Men in Black III (in which he plays a younger version of his No Country for Old Men costar Tommy Lee Jones) and Gangster Squad, the ruggedly handsome 44-year-old star is returning to host Saturday Night Live.
While we'll still have to wait a few more days to watch Brolin take to the stage at Studio 8H for the first time since 2008, there's a promo spot featuring the actor with SNL cast member Fred Armisen to tide you over. It will feel especially worthwhile if you were hoping to catch a glimpse of the typically stoic Brolin boogying down, comparing goatees, or crying at the sounds of sad music. (Good luck when musical guest Gotye performs "Somebody That I Used To Know", Josh!)
But the spot will likely please an entirely different demographic from hardcore Brolin fans: People who have dreamed about punching Fred Armisen square in the face. (Perhaps on behalf of the beloved Peggy Olson?) Watch it here:
Have you missed Josh Brolin over the past year, too? Are you excited to see him use his oft-neglected dry sense of humor on Saturday Night Live? Or are you tuning in solely to watch the haunting Gotye perform? Is a Brolin Punch more effective than a Jovi Punch? Sound off in the comments section!
[Photo credit: NBC]
Follow Aly on Twitter @AlySemigran
More:
Josh Brolin Cast in Spike Lee's Oldboy
Saturday Night Live Recap: Sofia Vergara and One Direction Make Some Noise
Paula Deen Tries To Butter Up Saturday Night Live For a Visit