Juan Pablo Galavis is Rumored to be the Next 'Bachelor': Why ABC Needs to Sign Him Already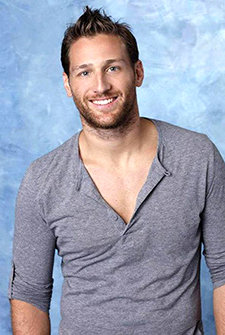 After the "Men Tell All" episode of The Bachelorette aired this past Monday, rumors began circulating that Juan Pablo Galavis is the frontrunner to become the next Bachelor. Juan Pablo is a 31-year-old Venezuelan-American, ex-professional soccer player who hails from Miami. The Bachelorette became a snoozefest after Desiree Hartsock kicked him off in episode six since he was the only person worth watching (seeing as he was charming and funny and gorgeous and, and… ). ABC needs to sign this Latin heartthrob muy rapido. 
Seeing all the rejected contestants in one room together again on "The Men Tell All" reminded us once more that Juan Pablo was far and away the best choice. Juan Pablo left his vintage journal, poetry, kindergarten drawings and sack of bulls**t at home and tried to win Des over with only his charm. What a novel idea! He was also the only contestant (besides Brooks) who decided not to play by Bachelorette rules and pretend that Desiree was the centripetal force of his universe.
Despite Juan Pablo's limited ability with the English language, nothing gets lost in translation with him. He is one hundred percent comedic gold. Actually, he won the random Lone Ranger movie date without speaking any English at all. And let's not forget his reaction to yodeling on their trip to Germany: 
Most importantly for us fans, the Bachelor/ Bachelorette cannot be annoying. Juan Pablo is not in the least  bit aggravating. He is not a gossiper, a certified whistleblower (I'm looking at you, Michael G) or the keeper of the "right reasons." He also did not play up a sappy angle for the show, for example, Type 1 Diabetes (still looking at you Michael G) or a broken home. In fact, he hardly mentioned the fact that he had a four-year-old daughter at home, let alone exploit the fact for personal gain.
Underneath his suave demeanor, Juan Pablo has his heart in the right place (dammit, now I'm speaking in Bachelor clichés!). He melted the hearts of fans everywhere when, during his elimination, he revealed how much of a family man he really is, "I came here to find somebody on the same page as me. Somebody who wants to have a family, have kids … spend Christmas, birthday parties … hopefully I'll find a step-mom for Camila pretty soon." C'mon ABC, keep us entertained and find Camila a step-mom already (and a woman who can pronounce his name). 
Follow Hollywood.Com On Twitter @Hollywood_Com
More:
'The Bachelorette' Recap: Hometown Visits
'The Bachelorette' Recap: Barcelona Blow-Out
'The Bachelorette' Recap: Armageddon  
---
From Our Partners


Battle of the Bikini Bodies (Celebuzz)


Complete Guide to Strippers in Movies and TV (Vh1)