Just Kidding, James Franco Will Return to 'General Hospital'
Leave it to James Franco's career A.D.D. to make the rest of us look like scrambling morons. First, we reported that he would be returning to General Hospital to reprise his cackling role as Franco, the terrifyingly tortured artist. Then, in an interview with E! News, he said it just wasn't true. He was just far too busy for that. Now, there's photographic evidence of the star's return to the daytime soap, which makes even the most loyal and understanding fans (like myself) want to throw his own books of short stories right at his face. Stop toying with our heads, Franco.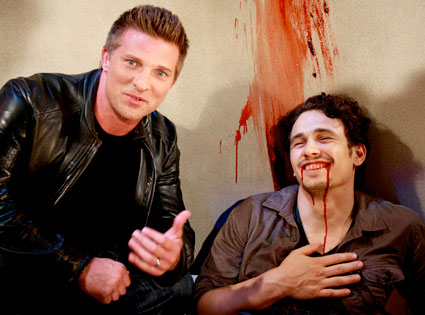 Perhaps Franco was just getting into character. His less-than-creatively-named character…Franco, is a master manipulator and according to E! News, he'll return to the small screen Sept. 20 and his reentry to Port Charles will coincide with Jason Morgan and Samantha McCall's nuptials. Clearly, that wedding is going to get a little messy. And if this photo is any indication, even a little bloody.
Okay, Mr. Franco, we still love you. Just stop with the mind games, okay?
Click on the picture to see our James Franco gallery.

Source:E!