Walton Goggins on 'Justified"s Finale, A Raylan Showdown… And Why His Relationship May Be Doomed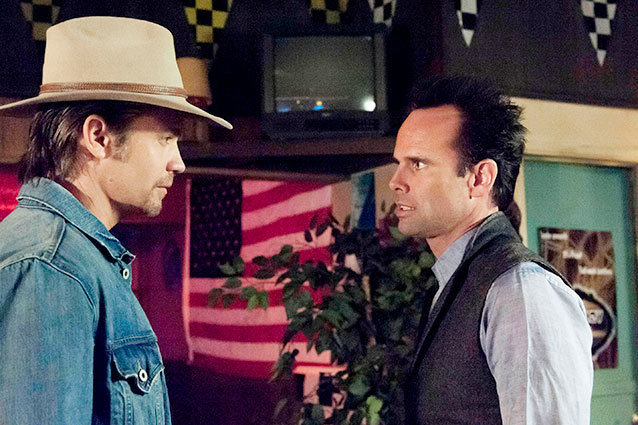 Raylan Givens (Timothy Olyphant) and Boyd Crowder (Walton Goggins) may have had the same objective over the last few weeks — that is, find Drew Thompson — but throughout most of this madcap fourth season, Justified's two dashing leads have been on completely different trajectories, occasionally converging whenever fate saw fit. Their overall lack of interaction hasn't hindered Justified's fun, but fans of witty banter and one of the most interesting relationships on television may be wondering where this love/hate partnership stands.
'Justified' Renewed For Season 5 By FX
"There's this conversation that happens in the next episode that says it in black and white — how Raylan feels about Boyd, and how Boyd feels about Raylan," Goggins told Hollywood.com during FX's Upfront party last week. We've had the chance to screen the episode, and can verify that this is one of the duo's most memorable scenes together — and it comes to pass when Goggins' fiance, Ava, goes off to handle a difficult task on her own. That task, of course, is getting rid of the body she shot with a rifle last season.
"She's just trying to fix this situation," Joelle Carter, who plays Ava, said of the couple's predicament. "They're not going to get Ellen May, they're not going to get Drew Thompson… they just have to get rid of this body. I think she realizes she needs to step up and do it herself, so she goes off on her own."
So Ava runs out on her own, while Boyd and Raylan try to stop this Theo Tonin/Drew Thompson/Winona rocking chair business once and for all. But despite the money and the vengeance and all of the various things Boyd has had on his mind throughout the season, Goggins assured us that only one thing truly matters.
"Boyd has, for the most part, lived a pointless life and found no point in existence," he said. "Now that he's found this love, he has a big investment in protecting it. It means everything to him."
Aww. We can't tell you how things turn out (other than EXPLOSIVELY, if that's even a word), but we can leave you with some words of wisdom from Mr. Boyd Crowder itself. When we asked Goggins how to capture the love that Boyd and Ava have, he gave us an… interesting… response: 
"I think all women should go out with criminals," he said with a laugh. "Reformed criminals." 
Follow Shaunna on Twitter @HWShaunna
[Photo Credit: Prashant Gupta/FX]
---
From Our Partners


See 'Game of Thrones' as 'Mad Men' (Vulture)


Hayden Panetierre Bikinis in Miami (Celebuzz)