'Justified' Gets Season 4: More Timothy Olyphant Shooting Junkies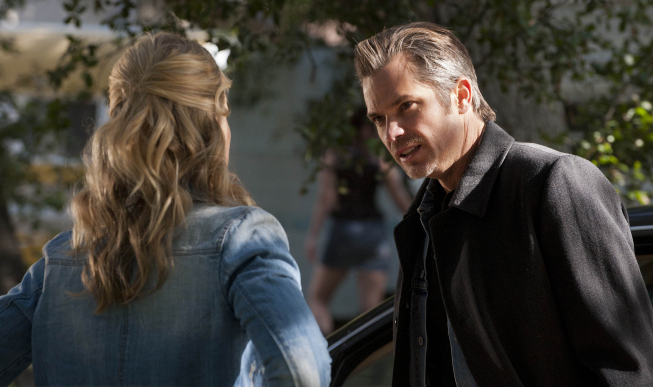 FX has decided to give its hard-boiled crime drama Justified a fourth season, a decision that—based on the show's critical acclaim, decent ratings, and great performances from the cast—is definitely…oh, what's the word?
Justified stars the exceptionally watchable Timothy Olyphant as Raylan Givens, a United States marshal with the complex of an Old West cowboy, created originally by novelist Elmore Leonard, whose story Fire in the Hole served as the basis for the FX series. The pilot saw Florida-based Givens reluctantly relocated to his hometown in Kentucky, where he has been forced to face old family members, friends and lovers…many of whom are criminals he never wanted to see again.
The first two seasons pitted Raylan against various foes, including Boyd Crowder (
Walton Goggins
), an old friend to whom he owed his life, the Bennetts, a pot-dealing family with some nefarious secrets, and his wicked, diabolical father Arlo (
Raymond J. Barry
). The current third season sees the rise of a few different potential enemies, including a mysterious Detroit mob man (
Neal McDonough
) and a butcher with a penchant for long, philosophical speeches (
Mylekti Williamson
).
So what might the fourth season have in store? Will Raylan finally get in touch with the anger issues he has displayed since Episode One? Will he manage to get out of Harlan County once and for all? Will he be able to reform his father and old friends so that he might be able to enjoy a peaceful personal life? Or will we just get more shooting, shouting and merciless drug dealers?
Either is fine. The fourth season will last 13 episodes. Justified currently airs Tuesday nights at 10 p.m. ET/PT on FX.
Click the photo to see more pictures from our Justified gallery.