Joelle Carter Teases Even More 'Justified' Deaths — And a 'Beat Down' For Boyd and Ava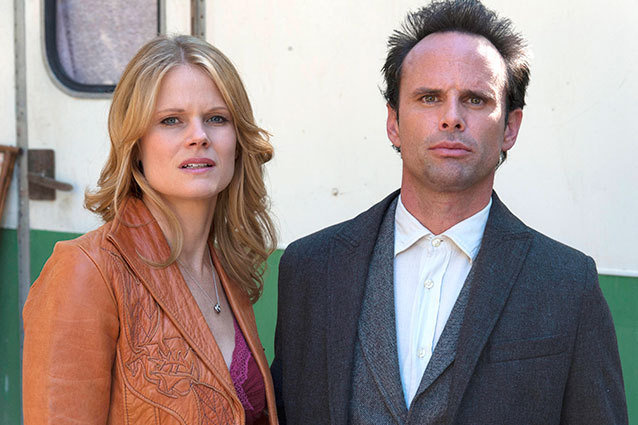 If there's one thing we should have picked up from Justified by now (besides "never drink the moonshine") it's that happiness is fleeting. Other than Raylan (Timothy Olyphant), no one knows this better than Ava Crowder (Joelle Carter), who has been beaten both literally and metaphorically throughout her tumultuous life. Still, the fiery blonde keeps going — and this season, she has seemed poised for success, with a giant rock on her finger, the love of her life by her side, and a suitcase full of cash set for a down payment on a Kentucky McMansion. Unfortunately, as tonight's episode revealed, some loose lips are about to put a dent in all that. [MINOR SPOILERS AHEAD]
While tonight's biggest reveal came when Raylan realized that Drew Thompson is, in fact, Sheriff Shelby Parlow (Jim Beaver), Boyd and Ava were in for a shock when they found out that Ellen May (Abby Miller), the hooker who holds the key to Ava's potential downfall, is still alive. And according to Carter, it's all downhill from here.
"[Boyd and Ava] really get beat down after this episode," Carter says. "[A happy ending] could be possible, but the way things are going this season — it doesn't seem so."
Sigh. But weren't they so cute when they went house-hunting together? Now that Ellen May has A, turned to Jesus, and B, knows that Ava and Boyd meant to have her killed, Ava's big secret — the fact that she killed the abusive Delroy to protect Ellen May — will not stay secret for long. Plus, there's the Dixie Mafia slash Detroit mob heat coming for Boyd. Finding Drew Thompson before Raylan, and delivering him to Theo Tonin, may be the family's only hope at wads of cash and a clean getaway.
"Now that they've found Drew, it's the chase for who gets him first," Carter says. "Raylan has a reason why he wants him — he wants to further his career for his family. And Boyd needs him to keep his family safe and together. Everyone is going after this guy. [With] Ellen May… unfortunately we have Ron Eldard's character doing Ava and Boyd wrong."
With happiness, and an end to the dangerous, crime-ridden life they've been living in sight, the falling house of cards will be a particularly hard pill to swallow. But according to Carter, Ava will take the first gulp. "You have to hold on to the dream," she says. "I think she holds on to the faith that Boyd has — that he can continue to fix things [for awhile]. But towards the end of the season, she loses the faith sooner than he does."
Murdered 'Justified' Character Talks Shocking Death
Still, regardless of the fact that jail time could be looming on the horizon, Carter says we should never give up on her tenacious alter-ego. "She knew what she signed up for," she explains. "As the seasons go on, [Ava and Boyd] get stronger and stronger, and they have more obstacles against them. It's a struggle to hold on to something that makes them feel true and alive. There is a scene coming up where you really get to see Ava get herself out of a predicament, and show you how strong she is still, even in this place of so much fear and uncertainty."
Sounds great, right? Err… wrong. "In the future there's more fatalities, more hardships, and more at stake," Carter continues.
Oh well. It was sweet while it lasted.
Follow Shaunna on Twitter @HWShaunna
[PHOTO CREDIT: Prashant Gupta/FX]
---
From Our Partners:


Seal Is Dating the Pink Power Ranger: Report (Vh1)


60 Celebrity Bikini Bodies: Guess Who! (Celebuzz)