'Justified' Recap: Don't Shoot the Nice Lady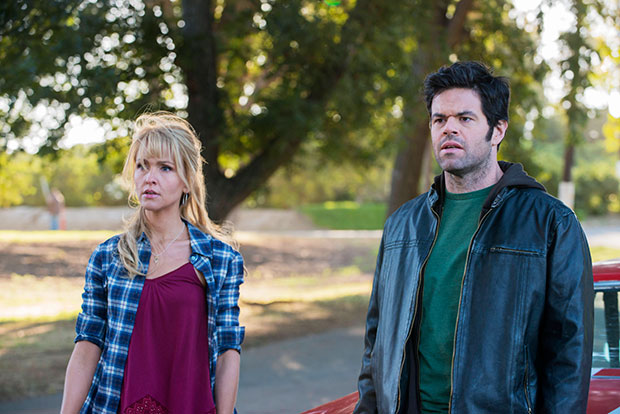 That was an… interesting turn of events, now wasn't it? Not only did Billy St. Cyr totally die (I was wrong… dead wrong), but Rachel aligned with Raylan, getting down with her bad self in an atypically lady-centric episode for this series. Boyd and Raylan may be the stars of the show, but the women in their lives are greatly contributing to the Season 4 script — so much so that Billy has already been eliminated, leaving Boyd with both Ellen May and Cassie on his case (possibly together?), and Raylan has (temporarily) brushed aside the Drew Thompson mystery in favor of chasing Lindsey. (And, well, his $20,000.)
Let's start with Raylan and Rachel: boy, was it nice to see these two partnered up. For one, she was finally allowed to do something besides stand there. For two, her personal issues have her going slightly off the rails, which has allowed her to see and do things on Raylan's level, for once. She's still much more put together than he is — which is not hard, as so is Lindsey Lohan — but she makes a good foil for the typically solitary old grump, who could use a trusted companion. (Like Doctor Who!)
Their partnership began during that coworker happy hour they indulged in at the end of last week, which ended in the realization that Lindsey (and the cash) had split. As it turns out, Randall didn't take her, she left on her own accord. ("I'm thinkin' you should have seen this coming," says Rachel. She's right. Get a bank account, Raylan.) Also, the $20,000 was meant for fighters — not people fighters, fighters of the chicken variety. (It was only a matter of time before Justified featured cockfighting, right?) But, alas, Randall's lifelong dream of fighting cocks was never meant to be, as Lindsey became frustrated by his jealous Hulk-like proclivities. As she explained to Raylan earlier, Randall was imprisoned for beating up a guy who was a mark in their tried and true scheme — she flirts, he steals. Their target this week was an unexpecting elderly-ish camera-enthusiast at a convenience store, and the Lindz was not happy when Randall's jealous streak returned. You know who doesn't get jealous? Raylan. So, who did she call when Randall was beating the guy to smithereens? Raylan, who (with Rachel) was able to track down the call (and the couple).
At this point, Rachel had to say goodbye: she offered to call out sick but Raylan, of course, needed to do this part on his own. Interestingly, it was largely because the matter had become largely personal. When Rachel and Raylan surveyed the damage in the bar bedroom, he seemed really, genuinely sad that he was betrayed by someone who he thought had actually liked him. (Oh, Raylan. How can anyone truly love you, until you learn to love yourself?) And when Lindsey finally betrayed Randall by using the beanbag-round rifle Rachel gifted Raylan (say that ten times fast) to shoot R1 instead of R2, he was very happy to be able to say "I knew you liked me."
Well, maybe she did, but not enough to stick around: Raylan ended up shackled to Randall, who he brought in to go back to the slammer. "At the end of the day when it's all done, she's still kinda worth it though, isn't she?" Randall said, very sadly. Raylan seemed to agree — whatever magic tricks this woman knows, they're very effective.
Now, some family purists might bemoan the fact that Raylan has fallen for this bad girl instead of chasing after the pregnant Winona, but someone as put together (and, let's face it, judgmental) as Winona would never completely work with Raylan. As much as he tries to distance himself from his roots, he's a Harlan boy and always will be, one on side or the other. Lindsey understands that. Also, Winona left to hang out with a serial killer and Kevin Bacon, so there's that.
But Raylan's adventure pales in comparison to Boyd, Ava, Colt, and Ellen May's — we all knew that Ellen May was about to meet her maker when Colt got that call, but I sure wouldn't have thought that someone would have swiped her before Colt got the chance to turn out the lights. Who was it? Well, let's start at the beginning:
Ellen May wanted to come home and "work" after Billy's death (PS — anyone else wondering what the bottom-dwelling Johns at a whorehouse are like?), but Ava was afraid that she may have confessed her sins regarding Delroy's death before Billy's untimely passing. Boyd was actually willing to forgive and forget after he did some sleuthing, by having Cassie brought in to Shelby's office for an interrogation. Before she came in we saw a note that Drew Thompson was alive on the screen, but that's being saved for another day. Anyway, he got nothing out of Cassie. He set it up as a meeting to obtain incriminating info on Boyd, but all she claimed to know was what everyone else knew: that Boyd was a bad, bad man who dealt women and drugs. Boyd and Ava were on speaker phone, and Cassie's words seemed to quell Boyd's fears — but not Ava's. She wanted to send Ellen May, the wild card, out of town to work for Boyd's born-again cousin in a motel. "The next time you give a blow job, it's because you want to," Ava said. Wonderful. This would have all worked out perfectly, had Ellen May not brought up the fact that she wouldn't snitch about Delroy IN THE MIDDLE OF A CROWDED BAR. Which leads us back to the aforementioned doomed death march with Colt, who was tasked with dropping her off at the crowded bus stop in the sky.
So, who snatched her up while Colt was taking a leak? I'm torn between two parties: on the one hand we have Wynn Duffy and Johnny, the latter knowing full well what happened to Delroy, and what Ellen May could possibly do for them with her insider information. However, there is also Cassie, who I'm convinced is about 1,000 times smarter than she looks. Cassie could have been faking it for Shelby, knowing full well not to trust anyone in this town. Either way, once again, Boyd is royally f***ed.
Follow Shaunna on Twitter @HWShaunna
[PHOTO CREDIT: FX]
MORE:
'Justified' Recap: Sucking out the Poison
Late Night Last Night: Timothy Olyphant Tells His Son to Kill People
'Justified' Recap: Where's Waldo?

20 Hottest Celebrity Bikini Bodies