'Justified' Recap: Meet More Crowes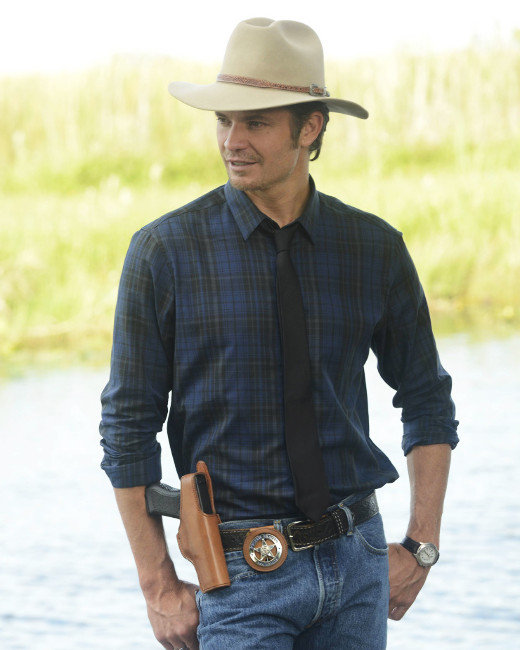 FX
Justified opened with a really nice tribute to the late Elmore Leonard, the author behind the whole show. Timothy Olyphant, who plays Deputy Marshal Raylan Givens, Walton Goggins, who plays Boyd Crowder, and creator Graham Yost all spoke highly of him.
The episode opened with Givens on the stand for a possible settlement case for Dewey Crowe (Damon Herriman). The main purpose of this scene was to once again gleefully show how stupid Crowe was. At one point, Givens pointed out "for the record, he thought he had four kidneys." The ultimate was when, after Crowe's lawyer threatened to have many other people talk about how rough Givens was in meting out justice and the defense decided to up the settlement to $300,000. Judge Mike Reardon (the always great Stephen Root) said, "In light of your situation, the state has decided to up it to 300." Crowe reared up and in righteous indignation, roared, "300? After all I have been through, I'm ONLY GETTING $300?!?!" In possibly the best deadpan voice ever, Reardon replied, "That's $300,000, you nitwit."
The scene shifted to Boyd in jail, talking to his fiancee, Ava Crowder (Joelle Carter) – she had been married to his brother – and saying that he would do whatever he would to free Ava, including threatening a judge's family. After parting ways, he went to a dope deal, only to find that Detroit was in free fall – they tried to stiff him, literally. He had to shoot three men, getting his ear badly wounded in the process. He called Wynn Duffy (Jere Burns) to tell him that the two of them were going to go to Detroit.
A quintessential Leonard scene happened next in Florida: Dilly Crowe (Jason Gray-Stanford) and Elvis Manuel Machado (Amaury Nolasco) paid a visit to a corrupt Coast Guard officer and Dilly wound up shooting him due to his making fun of his stutter. This was bad because the Coast Guard officer had been on the Federal watch list for taking bribes. This meant Art Mullen (Nick Searcy) wanted to send Givens to Florida to see the Crowes and also possibly see his baby daughter, since Winona (Natalie Zea), his estranged former wife, was also in Florida. Wanting no part of that, Givens sought a shortcut to stay in Kentucky and went to see Dewey at his new bar. He found him in a pool and after some back and forth with him and learning that Dewey had distanced himself from his clan, he shot the pool up on his way out just as a measure to keep tweaking Dewey.
Givens went to Florida and found that Machado was his target. He met a Florida task force and was driven around the area by Agent Sutter (David Koechner). Dilly met the senior Crowe, Darryl (Michael Rapaport). Darryl blew his top about hearing about the dead Coast Guard officer, since he knew that would spell trouble for his clan, since the Feds would come sniffing.
Boyd went to Detroit with Duffy to find out about his missing drug shipment, since he was going to need money to pay off whoever he needed to get Ava free. The two went to an abandoned building and had to climb 14 flights of stairs. What ensued was a truly surreal scene. They found Picker (John Kapelos), who he had had dealings with in the previous season. There was a bunch of severed mannequins and a man with a chainsaw in another room, torturing someone. Sammy Tonin (Max Perlich) was there too, but Picker soon disposed of him and the chainsaw guy (Boyd and Duffy were spattered with Tonin's blood, with both of them being too impossibly cool about it). It turned out he had aligned himself with the Canadian mob and was going to kill Boyd and Duffy as well, but Boyd turned the tables on him by hitting him with the briefcase. The three of them met the Canadian connections, played by Will Sasso and David Foley, continuing the show's tradition of bringing in comedic actors to play serious roles. The Canadians were backing out ("I thought all Canadians were supposed to be nice?" "Wrong Canadians."). This meant that they would have to find other avenues. Picker suggested Mexico.
In Florida, things didn't go well for Givens either. First he and Sutter met Jean-Baptiste (Edi Gathegi), who called Darryl right after he left. Darryl was then flying down the Everglades on an airboat, where he sent his sister, Wendy (Alicia Witt), a paralegal, to meet with the two law enforcement officers. He agreed to have them get Machado, so that he wouldn't violate his parole. Darryl went back to his place and told Machado his services were no longer needed and that he would meet him at a hotel with his last payment. Machado went with Wendy to go to the hotel. The tricky part was Dilly. In a cold-blooded move, Darryl had his brother Danny stab him, since Darryl figured that he would be too stupid if he had to talk to the Feds.
Machado, who figured he had been set up, tried to thwart the plan by taking Wendy at gunpoint, but the Crowe sister, while having gone legit, was still more than capable of thinking on her feet. She purposely got into an accident and fled the scene while Machado stumbled off. She called Givens, who was at the hotel finding that Machado wasn't there. She told him that Machado was fleeing to Cuba. Givens and Sutter found Machado on a motorized raft, trying to leave. When they told him he could either A) Bring the raft back and they arrest him or B) Try to swim to Cuba, Machado chose C) Get pumped full of lead by the two officers when he tried to draw on them.
Givens headed back to Kentucky after Sutter told him how hard it was to have to leave his kids when he saw them on his visitation days. Givens didn't even want to deal with that, electing to have a Skype conversation with Winona.
The episode closed with Boyd visiting the home of Lee Paxon (Sam Anderson), the man he most despised – a powerful man who he had humiliated last season, but who now had the upper hand. After Paxton wanted him to grovel and sneered that he wouldn't do that even to save his "white-trash" fiancee, Boyd caved his head in and then paid off Paxton's new Latvian wife to keep quiet. Boyd the Animal had resurfaced.