'Justified' Season 5 in Review: Did the Show Miss Some Key Opportunities?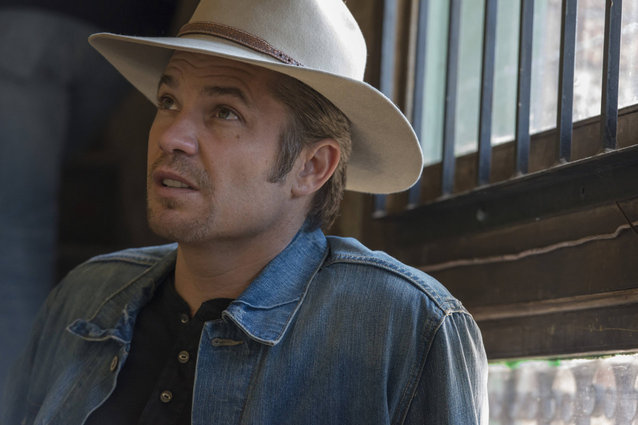 FX
In a big change of pace, Raylan Givens (Timothy Olyphant) didn't have to kill any major bad guys this season on Justified. The villains still met their end as the heroin business took its toll before sales even started. And like always, Boyd Crowder (Walton Goggins) somehow survived it all.
Season 5 of Justified leaned heavily on the dysfunction of the Crowe family. The arrival of Daryl Crowe (Michael Rapaport) and his crew caused a lot of headaches for Raylan. Daryl even joined forces with Boyd to smuggle heroin from Mexico. The newest Justified villain proved that he can't be trusted as he turned on Boyd, which made the Mexican cartel that provided the drugs angry, and worst of all, convinced nephew Kendal Crowe (Jacob Lofland) to confess to shooting Chief Deputy Art Mullen (Nick Searcy). Daryl was the man holding the smoking gun, but he'll let Kendal — a minor — rot in lockup, even if it meant he gets tried as an adult. Even for a bad guy, Daryl is a world-class lowlife.
Missed Opportunities
Justified is never short on antagonists. Many criminals are up to no good, but this season underutilized some baddies. In the beginning of the season, Wynn Duffy (Jere Burns) and Boyd teamed up to move heroin. It appeared that Mr. Duffy would play a big part in the criminal underworld, but then he stayed in hiding where it was safe. He probably didn't want to get tortured by the Mexican cartel, fuming because of all the trouble Boyd and Daryl caused getting the product across the border.
Ava Crowder (Joelle Carter) spent the entire season locked up for trying to dispose of a dead body in season four. Although she was no use to the outside world, her prison adventures were an interesting side story this season. However, the presence of the cartel was completely wasted. Yes, the three members played a prominent role in the finale, but they could have evolved to be the main antagonists. And only three members? Certainly they could have brought more backup. If there had been more members, Boyd wouldn't have outsmarted them by luring Marshals Rachel Brooks (Erica Tazel) and Tim Gutterson (Jacob Pitts) to Ava's house. The cartel members all died on the front porch after a shootout.
Raylan Never Got His Hands Dirty
Rough outlaws such as the Crowes usually meet their maker after Raylan pulls the trigger. Not so this season. Danny Crowe (A.J. Buckley) actually faced off against Raylan, but accidentally killed himself when he misstepped and pierced his neck with his own knife. The big showdown between Raylan and Darryl never materialized as Wendy Crowe (Alicia Witt) shot her own brother. Raylan wasn't even there to take down the cartel members. Kind of anti-climactic.    
Boyd's Big Brain and Big File
Finally, Boyd will be brought to justice. Or killed. Next season, Justified hits the home stretch. In the final season, we know the marshals plan to nab Boyd for his crimes. Miraculously, Boyd's intellect has saved him from death numerous times, most notably in wiggling his way out of the cartel's grasp. But the case against Boyd, represented by a thick file full of paperwork, is strong. Murder, drugs, prostitution, and other crimes will stick when Raylan and the other marshals pin all their evidence on Boyd. Anything less than a shootout or standoff with Raylan will be a disappointment.