Justin Bieber on 'Saturday Night Live': Do You Belieb In His Comedy Skills?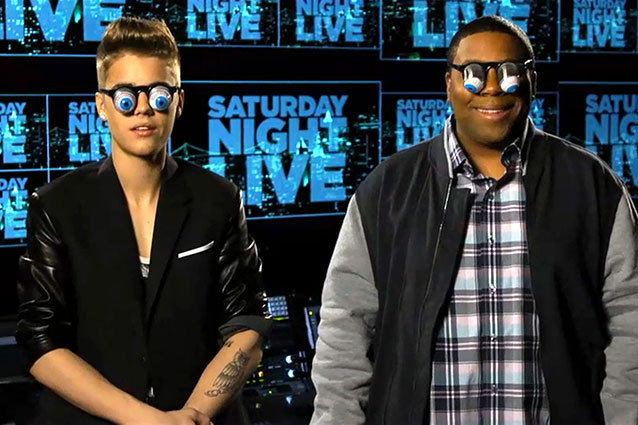 Despite Adam Levine's poor showing on Saturday Night Live in January (who else was on a payphone waiting to call Time Warner to tell them to shut the horrible episode down?), the sketch comedy series is continuing to bank on musicians' comedy skills. But it's likely SNL is hoping Saturday's host and musical guest, Justin Bieber, moves less like Levine, and instead lives on the same planet as this season's surprisingly apt host, Bruno Mars.
RELATED: Justin Bieber's 'SNL' Promo: You'll Like It, Unless You Hate Him
So far, we have little reason to think Bieber will go belly-up Saturday — after all, the teen sensation already scored in a sketch with Tina Fey when he served as musical guest in 2010, and a 2011 digital short spoofing The Roommate. But the singer is so reviled by some music lovers, that he has the most difficult hosting task since Lindsay Lohan tried to forge a comeback last season: Bieber has to make people like him. 
SNL has done just that for some musicians in the past — both Taylor Swift and Miley Cyrus proved to be charming and self-effacing on the late-night sketch show, despite their public image problems. But neither have spent their entire career in the industry as a mop-topped punchline like Bieber.
RELATED: Justin Bieber: A Murder Plot?!
But after spending years as the subject of punchlines, will he be able to deliver them? Talk about Bieber's hosting debut here, and be sure to return Sunday to read our full recap of Bieber's episode! 
Follow Kate on Twitter @HWKateWard
[Image Credit: NBC]
---
From Our Partners:

Celebrity Swimsuits Ever (Celebuzz)

Stars: Where Are They Now? (Celebuzz)