Kat Graham, Julie Plec On 'Vampire Diaries' Finale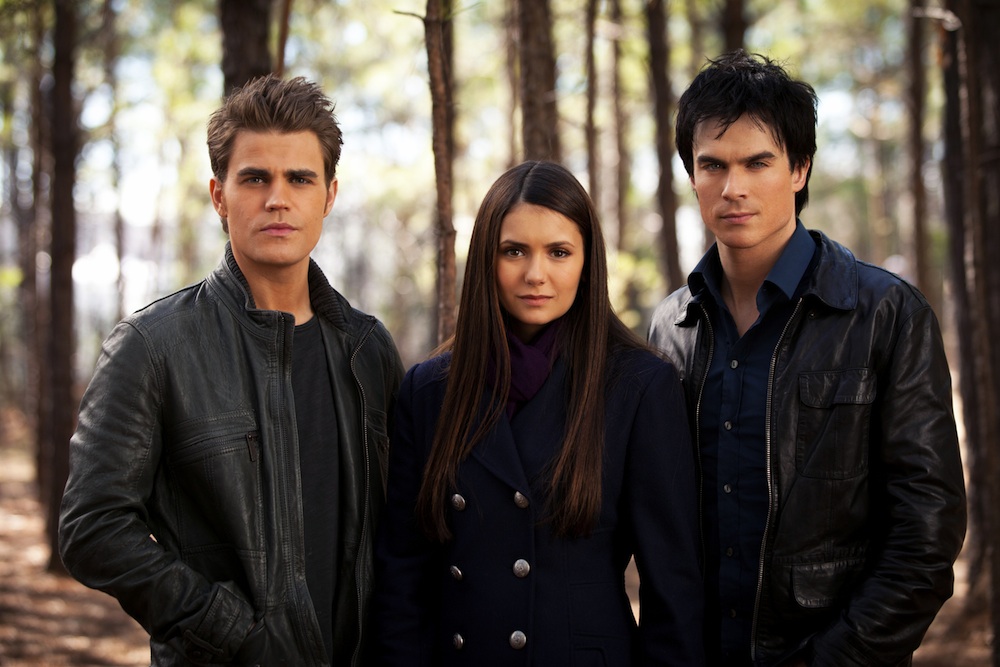 Before we start looking ahead to what's sure to be a dynamic season four, let's take a teensy step back: Because Thursday night's game-changing finale of The Vampire Diaries will be a flashback episode. Now, don't start freaking out just yet — there will be resolution to that little Alaric conflict, and according to the episode's synopsis, Jeremy will make a very difficult decision that will drastically change our characters' current realities. And since executive producer Julie Plec promised some resolution to Elena's longstanding Damon vs. Stefan conflict, I'd bet on some very major action in Mystic Falls' present.
But Plec made it clear that tomorrow night's flashback will shed some serious light on the present, and star Kat Graham (Bonnie) promised Hollywood.com last Friday that fans will start to see certain characters in a completely different light.
"If you remember the pilot episode — it's around that time," Graham explained. "They were much more young and innocent. So much has happened to take away everyone's innocence. It's when their life was in a simpler time, and I think that's exciting to see. It's not just murder, murder, murder, rampage, rampage."
The episode will include some very important guest stars, including the recently deceased Aunt Jenna (Sara Canning), and Jason MacDonald and Erin Beute as Elena's dearly departed parents. According to Graham, seeing what Elena and co. were up to in those days will help paint a clearer picture about the characters' pasts. "You'll get to see something that I feel like the audience really deserves to get to see," she said. "The characters grew up so fast, and so much has happened within these past three seasons, that it's going to be great to see things we didn't have time to show in the beginning. Plec agrees: "The flashback in the finale is a nice, small little runner that goes through the entire episode, as Elena is looking back at a part of her life when things were more simple, at least from a supernatural level. We will get a flash of something else that happened during that time that we never even really considered. It's more of an emotional thing than it is a suspense thing."
Both ladies were mum about Jeremy's 'difficult decision', but they did dish on Elena's. "The [final] two episodes of the season are really going to be about her asking herself that question, and trying to understand how she could possibly let one of them go when she's already lost so much." And while Caroline has already made it clear that she is on team Stelena, Graham thinks that Bonnie would choose door number two. "I would say that Bonnie wouldn't want either one of them in the beginning," she said. "But if you watch the last episode, I think Damon and Bonnie are starting to finally realize that they have to work together. Bonnie is realizing that he might be someone that she can rely on if something serious happens."
When Hollywood.com asked Graham if last week's Klaus-killing spell would make her lose her powers, as her mother Abby did when she performed the same spell years before, she claimed that that is "still to be discovered." So if Bonnie survives tomorrow night's finale, which Plec has promised will include an unfortunate death, we can potentially expect to see that explored next season. The only thing we know for sure, according to Graham, is that Plec pulled out all the stops to plant the seeds for an even bigger adventure next year. "[Plec] is definitely great at planting seeds," she said. "How fast they grow we never know, but there's definitely been a lot of seeds planted in this episode. You guys are really in for it. You're definitely going to see some things where it's like, 'Oh my God, why are we going on hiatus?'"
In summary, fans can expect to see death, decisions past and present, and a potential new villain for season four. But could that villain be someone we already know? "You will not see hide nor hair of Katherine until Klaus is gone for good," Plec teased at last month's screening. "His survival ties into her appearance, or lack thereof." Well, Klaus is dead — it"s your move, Katherine!
Follow Shaunna on Twitter @HWShaunna
MORE:
'Vampire Diaries' Boss on Finale: Someone Is Going To Die
'Vampire Diaries' Recap: Once More, With Feeling