Holy Crap! Kathy Bates May Join Next Season of 'American Horror Story'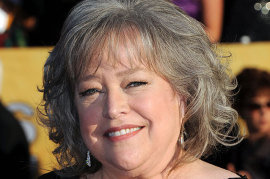 Kathy Bates is in talks to join Season 3 of American Horror Story. She is nearing a deal that will pit her against Jessica Lange's character on the FX horror show, TVLine reports.
If the Oscar winner does the smart thing and joins the revamped season, she will play Lange's best-friend-turned-nemesis. Lange, the resident scene-chewer in the series, will play a "glamour cat leading lady," according to series co-creater Ryan Murphy. Can you imagine the high-caliber bitch-off we'll see between these two? And no doubt Bates will bring a certain spook factor of her own to the show, especially considering Misery still gives us nightmares.
RELATED: 'American Horror Story' Season 3 Scoop: Horror Comedy 'Crafted Around' Jessica Lange
After the first season of the hit FX show, Murphy said that each season will be a totally different story using some of the same actors, but it different roles. While other details on Season 3 remain secret, Murphy previously revealed that it will be "more historical in nature" and take place in modern day, unlike last season which was set mostly in the '60s. But just like past seasons, we will see different "time periods" and "there [will] also be different cities." Other returning favorites are Lily Rabe, Sarah Paulson, Evan Peters, Taissa Farmiga and Bates' former Six Feet Under bestie Frances Conroy.
While the deal (with the devil) hasn't been signed, you know that I'll be sacrificing virgins to Satan (or Ryan Murphy, same thing) to make it come true. 
Follow Sydney on Twitter: @SydneyBucksbaum
[Photo Credit: KM/FameFlynet]
---
From Our Partners:


25 Most Scandalous Celeb Twitpics (Vh1)


33 Child Stars: Where Are They Now? (Celebuzz)