Katie Couric Learned Everything for Her Talk Show from Oprah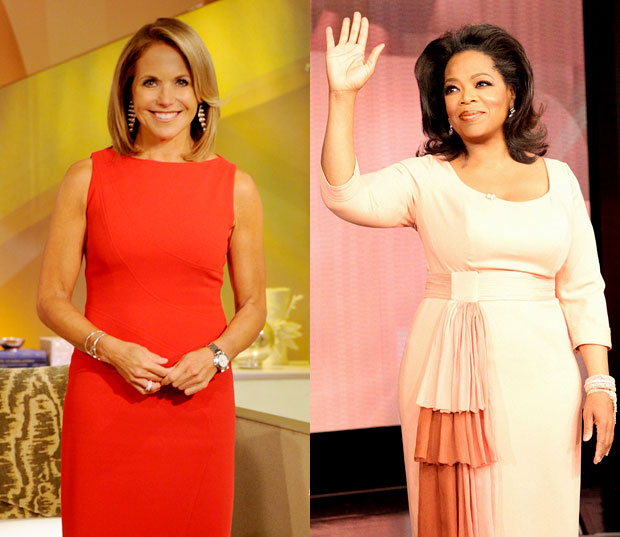 Ever since Oprah Winfrey, the once and future queen of daytime television, left syndication for her blighted home on cable the race has been on to see who can fill her throne. So far, though many have tried, no one has been up to the task. Still, of all the people auditioning – Steve Harvey, Jeff Probst, Ricki Lake (again), a revamped Anderson Cooper, Bethenny Frankel – there has only been one that has been able to grab both the viewers and the headlines: Katie Couric. And that's because she's using all of O's old tricks.
Who was her first guest on her debut episode on Sept 10? Jessica Simpson. What was she talking about? Weight, specifically baby weight. That's so like an Oprah episode where she gets a celebrity on and then talks about something the audience can relate to. And look at her upcoming shows, there is one about food addiction, one with Barbra Streisand (who could forget when she used a white microphone on Oprah?), bullying, Sophia Vergara, and something about a mystery woman. This is totally Oprah programming – a bit of serious, a bit of frivolous, some celebrities, and presto, ratings gold.
But her most Oprah moment yet came when the whole internet started talking about how, during a segment with teenage cutter and The X Factor judge Demi Lovato, Katie discussed her own issues with eating disorders, bulimia to be precise. That is what people loved about Big O, she was never afraid to share her own struggles. She was never above the topics that she covered. She would wheel all her fat out on a red wagon, talk about haul out her half sister that she didn't know she had for the whole world to meet.
Katie, you are being very damn shrewd with every one of these moves. The first time that someone cheats on their wife and gets caught and needs to go on daytime TV to atone, who do you think they're going to call? Not Probst. Katie! She's, well, basically the new Oprah. But if she has a Christmas themed episode about her most "fabulous" things and gives them out to the audience, we're all gonna know the jig is up.
Follow Brian Moylan on Twitter @BrianJMoylan
[Photo Credit: ABC; Harpo Inc]
More:
Katie Couric Gets a Talk Show on ABC
You'll Never Guess the Name of Katie Couric's Talk Show