Katie Couric Returning To 'Today' Show, But Only As A Guest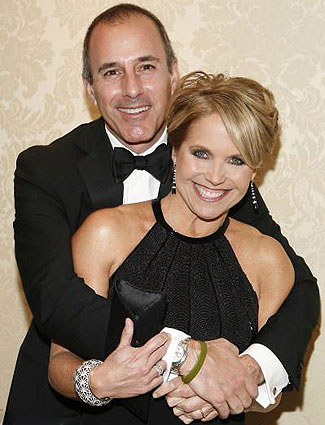 In terms of mythical reunions, the big ones everyone knows are: the cast of Seinfeld on Curb (hilarious), McCartney and Lennon in '76 (rumored), and Jerry Garcia with the Grateful Dead (zombied). But now we have one that blows them all out of the water: Katie Couric is returning to Today with Matt Lauer. But only as a guest.
On Wednesday, Couric will return to the fabled studio where she cut her teeth on fluff piece after fluff piece. Lauer will be interviewing her about her new book The Best Advice I Ever Got: Lessons From Extraordinary Lives and no doubt the sexual tension that so prevailed when they co-hosted together from 1997 to 2006 will be back in full force. I highly doubt it will be that awkward unless Lauer brings up the Happy Feet DVD that Couric borrowed and never gave back. And since both of their contracts are running out (Couric is expected to leave the CBS anchor post and Lauer's future with Today is questionable after his ends in 2012) the reunion could potentially indicate whether they will re-team back together in a syndicated talk show. Putting them together again is, after all, the only way to see if the sparks are still flying between the two of them (in between, of course stories of a dog's bark that sounds like "I love you" and Kathie Lee Gifford getting drunk again).
Source: Hollywood Reporter