'Keeping Up with the Kardashians' Premiere: What a Snooze!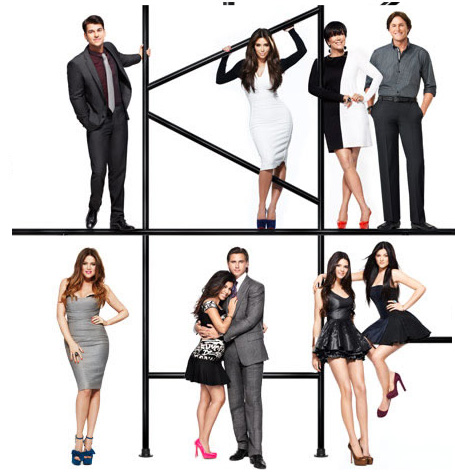 From the way that everyone ends their sentences by going liiiiikkkeeee thiiisssss and that even girls at Sweet Sixteen parties in Sheboygan are wearing Herve Leger bandage dresses, it's apparent that the Kardashian Klan has left their mark on young America. What shocks me, based on the seventh (yes, seventh) season premiere is that Keeping Up with the Kardashians, a show that has spawned several spinoffs, a retail store, a clothing line, various assorted books, and product lines — not to mention a 72-day sham wedding — is such a snore.
While I know plenty about Kim, Kourtney, Khloe, and the rest of their Kohort thanks to various and assorted tabloid stories and online rumors, this was the first episode of one of their assorted E! programs that I actually watched. Honestly, I have no interest in doing so again. I'm not one of those critics that is going to say that reality television is ruining our minds (and if that is the case, the Real Housemonkeys of Petticoat Junction have addled my grey matter a long time ago) or that the Kardashians are some symbol of the end of the American era. Not at all. In fact I respect Kim and the rest for being quite savvy and finding away to make their mark on the culture. That is no small feat.
But what shocks me is that the TV program that gained them entrance into the conversation (other than Kim's infamous sex tape of course) is this gosh darn dull. It tries to turn Kris Jenner, her Olympian husband Bruce, and the pair's many daughters into a modern-day sitcom (a formula perfected by The Osbournes so long ago). Like Us Weekly, it's trying to say, "Look! This famous family is just like yours!" Bruce is a doddering husband and mom is a nag that means well and the sisters fight and squabble, but everyone makes up by the end of each episode. So what?
Of course, their intent is to be relatable… except their life is not like ours at all. The central conflict of the first episode is that Kris wrote a book admitting she had an affair and now the tabloids are harassing Khloe, claiming Robert Kardashian is not her real father. Kris wants Khloe to take a paternity test but she doesn't want to. Sure, the whole thing becomes like a sitcom plot where mother and daughter fight and make up, but these are not everyday problems. My mother will never write a book and the tabloids will never care about who my father is. When I go out with my brothers, you won't see the paparazzi flashbulbs in the background, and when I see my sister (who I made up for the sake of this argument) wearing an outfit, I will never say, as Kourtney does, "Oh, you were in a 'Who Wore It Better' wearing that shirt with Nicole Richie and Nicole Richie won."
No matter how hard they try, the Kardashians will never be like my family. Thankfully, they do talk about how being famous plays a part in their lives (unlike shows like Jersey Shore, which nearly buckles under the weight of trying to make it look like no one knows who Snooki is when she goes out in public), but that is the same thing that makes the show impossible to watch. We already know that all this happened. If we care at all about the Kardashians (or even if we don't), we read about the scandal while it was unfolding. That makes the show seem like a sadly out-of-date textbook rehashing information we already learned somewhere else. Where is the discovery? Where is the surprise?
Not watching the Kardashians, that's for sure. Not even the promise of Kanye West joining the show will be all that thrilling. We already know he's going to be "dating" Kim, so why should we tune in to see if it happens? You can love them or hate them, but maybe it's time we all leave them, at least for a family with a little more oomph?
Follow Brian Moylan on Twitter @BrianJMoylan
More:
Khloe Kardashian: Kanye Is Better for Kim Than Kris Humphries
Kim Kardashian: Konfess You're Dating Kanye
Jon Hamm Calls Kim Kardashian 'Idiot': Hollywood's Favorite Punching Bag?