Keith Olbermann Sues Current TV Over Firing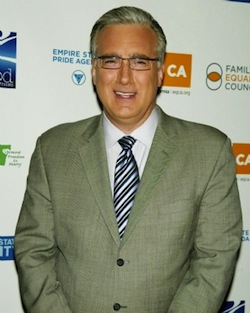 Keith Olbermann is finally taking his feud with Current TV from Twitter to a court room. Since Olbermann was fired from the network last week, he's been publicly threatening to sue his former employer. Now, he's made good on that promise, demanding $70 million in unpaid compensation from Current TV.
The network, which is owned by former Vice President Al Gore and Joel Hyatt, said it fired Olbermann for "material, serial breach of contract." He was accused of taking unauthorized vacation time, "sabotaging the network," and "attacking Current and its executives." Olbermann's five-year, $50 million contract was terminated, and former New York State Governor Eliot Spitzer took over his time slot.
Now the TV host is firing back, suing Current TV for breach of contract, sabotage, and disparagement. The document echoes Olbermann's claim on The Late Show with David Letterman that the network is poorly managed and "couldn't manage to, literally, keep the lights on."
Olbermann's suit also states, "After being enticed to leave MSNBC and come to Current with promise of editorial control, freedom from corporate influence and the professional support to produce a high-caliber political commentary show of the type viewers have come to expect, Keith Olbermann was disheartened to discover Al Gore, Joel Hyatt and the management of Current are no more than dilettantes portraying entertainment industry executives."
In the suit, Olbermann also shares a laundry list of complaints against the network, including using guest hosts for Countdown without his approval, refusing to give him editorial control over special election coverage, and not investing enough resources in the show. As Olbermann told Letterman, he's hired Conan O'Brien's lawyer, so prepare for another CoCo/NBC-esque showdown (albeit, with fewer jokes).
More:
Keith Olbermann on His Current TV Firing: "I Screwed Up Really Big"
Keith Olbermann Fired by Current TV, Replaced by Eliot Spitzer
Keith Olbermann Tells Letterman He's in Favor of Occupy Wall Street Protests