Keith Urban Would Return to 'American Idol' Next Year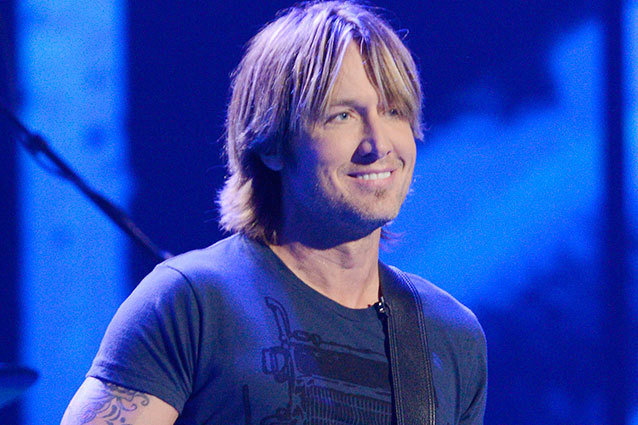 Randy Jackson may be stepping back from the American Idol judges' table — with Nicki Minaj and likely Mariah Carey not far behind him — but Keith Urban says he'll happily stay put on the panel for Season 13.
When asked if he'd return next year, Urban told reporters at the American Idol finale that he'd love to stay on board. "I would, yeah. I mean, I literally enjoy coming to work every day and that's a rarity," he said.
Urban's judging style is more calm and level-headed, but always honest. "I think it's more like being part record producer, part A&R person, and an artist as well," Urban said of his role. "For me it's just about seeing things about them that they need to get rid of because they get in the way of their true talent — little bad habits when you're starting out. You chip away all the stuff that is there in the beginning. In a lot of ways it's just picking up on those things that I probably had at that age as well."
The two remaining finalists, country-tinged Kree Harrison and soulful Candice Glover, have very different vocal styles but Urban says the things he loves most about them are their similarities.
"In a lot of ways, as different as they are, they share a lot of [traits]. That's why it was hard tonight," Urban says. "They have a lot of vulnerability and strength that are both apparent when they perform. They're both survivors. They both come from very rootsy, earthy, real families, and I think that's what's apparent in what they do.  There's no pageantry in either of them; that's why I love them both so much. They sing because they need to sing, not because they want to be famous. That's what they do and we're really lucky to have them."
More:
How 'American Idol' Gave Me a Crush on Keith Urban
Keith Urban Cops to Crying During Kree's Performance
'Idol' Finalists Kree and Candice on Their Potential Singles
Follow Jean on Twitter @hijean
---
From Our Partners:


Watch Justin Bieber Attacked in Dubai (Celebuzz)


33 Child Stars: Where Are They Now? (Celebuzz)