Kelly and Dylan Back Together on TV: Five Other '90s Pairings That Need to Follow
Sadly, the dream was just that: a dream. Reports of a real life romance swirled after formerly Beverly Hills: 90210 on-screen couple Jennie Garth and Luke Perry were photographed in a faux-P.D.A. display after working on ad for Old Navy. Alas, it was revealed that couple wasn't actually a couple. Our '90s dreams hadn't come true. Brenda Walsh had won.
But, there is a ray of hope: Garth's rep confirmed, in an exclusive statement to RumorFix, that Garth and Perry are involved in a soon-to-be on-screen affair. The pair is working on a new sitcom in which they will play a couple. "It will be a multi-camera half hour show, currently we have producers and writers and are meeting with networks," says Garth's rep. It's not what we wanted, but it's a pretty decent consolation prize, right?
But this got us thinking. With Garth and Perry headed for sitcom heaven, Melissa Joan Hart and Joey Lawrence raking in the '90s nostalgia to great effect on Melissa & Joey, Mayim Bialik making us laugh on The Big Bang Theory, Keenan Thompson rolling out sketch comedy on SNL, Anna Chlumsky making funnies on Veep, and Neil Patrick Harris ruling all things classy, award-based, and CBS-sponsored, the dream of the '90s is alive on television. Now could be the perfect time to get our favorite '90s stars back together, or in Melissa & Joey-style, together for the first time in an explosion of cheesy humor and overwhelming nostalgia. Naturally, we have an idea or two about who should unite on the small screen: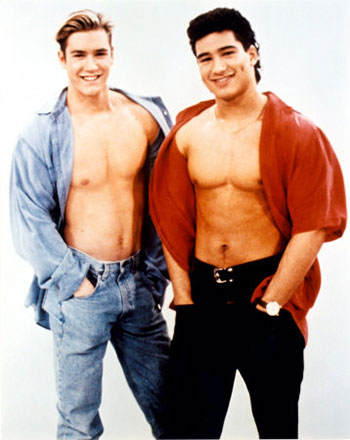 Mario Lopez and Mark-Paul Gosslear of Saved by The Bell in a Buddy Cop Sitcom.
Potential title: Saved by The Badge