Ken Jeong Should Dial Down the Crazy On Upcoming Sitcom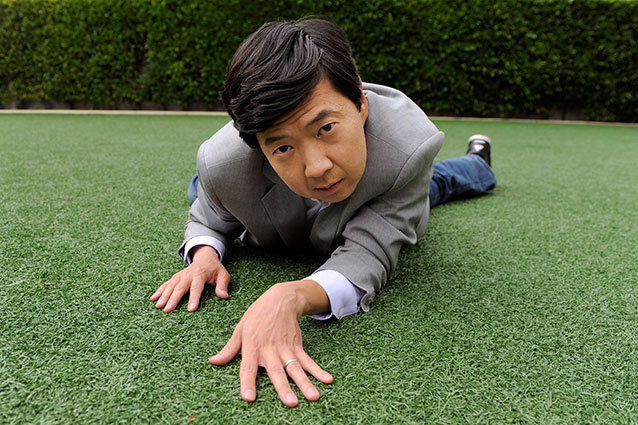 Chris Pizzello/AP Photo
Before he was tormenting Greendale students or running a criminal enterprise in Las Vegas, Ken Jeong was a doctor. The actor will return to his roots for NBC, where he will produce and star in a medical comedy based on his life, called Dr. Ken. Jeong is currently starring on the cult-favorite Community, where he plays former Spanish teacher and all-around psycho Ben Chang. The upcoming fifth season is rumored to be its last (although defeatist attitudes have never stopped Community from being renewed before, and since the two shows share a network, it would be possible for Jeong to work on both projects). So, human beings, there's a chance that nothing will Chang at all. 
However, the real question surrounding Dr. Ken is whether or not Jeong will be able to carry a show by himself — after all, he's made his name playing supporting characters who are completely insane. While the character of Chang was consistently hilarious for the first two seasons of Community, he became exhausting as weekly behavior got more and more outlandish. As far as the Hangover franchise goes, Jeong's Mr. Chow becomes less entertaining the longer he is onscreen. If the actor's new character is going to be the focus of Dr. Ken, it would be the perfect opportunity for him to showcase some restraint… otherwise, Jeong's schtick will get old long before the first season finishes its run. 
It will also be interesting to see the kind of audience that Dr. Ken will get, as Jeong is much more famous for his character work than his stand-up. His comedy is rather divisive, so even if he's guaranteed some crossover from Community or Hangover fans, there's no real way to tell yet whether or not Jeong will be able to pull in new viewers as well. Although changing that title before the show's run will probably help a good deal. 
More: 
Jonathan Banks Cast in Fifth Season of 'Community'
'Orange is the New Black' Exists in the Same Universe as 'Community'
Dan Harmon Returns as 'Community' Show Runner
---
From Our Partners
From Our Partners:


A Complete History Of Twerking (1993-2013) (Vh1)


20 Grisliest TV Deaths of 2012-2013 (Vulture)