Kennex and Dorian: A Certified Bromance on 'Almost Human'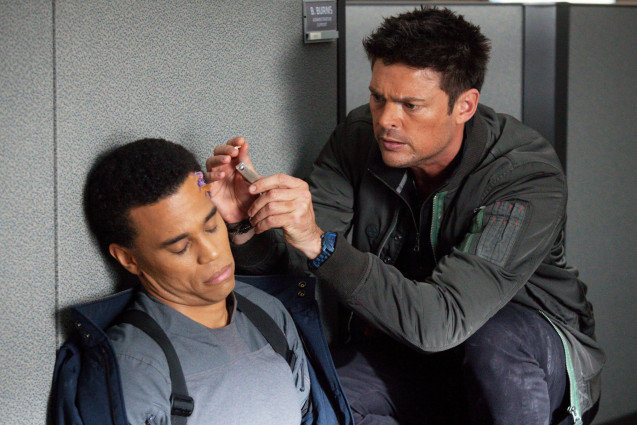 Liane Hentscher/FOX
They've seen each other at their best, and more often than not, at their worst. The mismatched partners on Almost Human are exactly what each other needs. Cops and bad guys, beware.
John Kennex (Karl Urban) and Dorian (Michael Ealy) complement each other in the field because they are so different. Kennex is the loose cannon who gets the job done, but is capable of being compassionate. Dorian keeps calm, evaluates situations and uses reason before doing anything, but the DRN android can get reckless thanks to his brand being an inconsistent, discontinued model.
The two have bonded thanks to sharing numerous rides while on patrol. They've also endured shootouts. Drug deals, dangerous criminals, and sexbots have also brought them closer. Dorian notices Kennex's lack of action in the dating pool. Kennex found his android pal a place to charge overnight. Dorian didn't want to hang with those stale, MX-43 androids at the police station.
Their bromance is constantly evolving and took a large step after Kennex stood up for his partner. An MX dispelled Dorian's theory about how a murder victim was killed. The MX constantly rebuked Dorian's ideas. What did Kennex do? He shot the MX's face off. Dorian revealed his own theory on their bromance later on in a car ride.
"You like me," Dorian said.
"No, I don't," Kennex responded.
"Yes, you do."
"No."
"You definitely do."
"How do you come by that conclusion?"
"The MX. You shot it because it insulted me. You like me."
"No, I shot the MX 'cause it wouldn't shut up."
"No. You shot it 'cause you like me."
"Keep talking, I'll prove my point."
"It's okay, John… I like you too."
See, the duo is evolving. Kennex wouldn't shoot an android in the face if it didn't offend Dorian (okay, maybe he would, he does have anger issues). But if Kennex is to overcome his rage, it will be because of his partner. Dorian is happy to be a cop and he would do anything to help Kennex. Cheer up, Kennex — you have your health, you have a job, and you work with Valerie Stahl (Minka Kelly). Having a coworker like her will make any bromance worth tolerating.