Kenya Moore vs. Porsha Stewart: Who Should 'Real Housewives' Fire?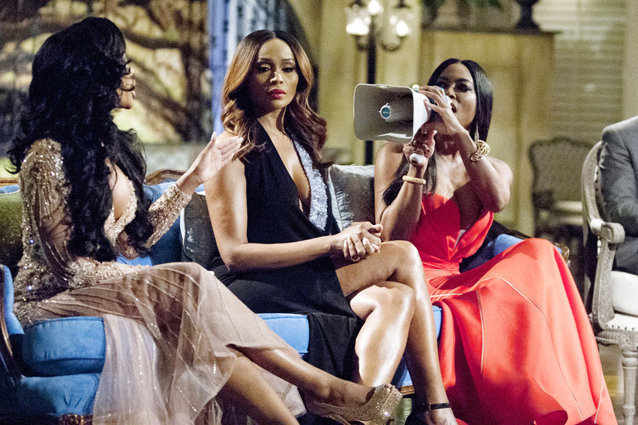 Bravo
Season 6 of Real Housewives of Atlanta has forever changed the franchise. Before this season, there have only been the occasional physical spats but never a full-on fight. However, NeNe Leakes altered history with an antagonistic couples' night. A bunch of cast members in pajamas, a few underlying issues, and a ton of loaded questions all added up to a huge brawl. Apollo Nida attacked one of Kenya Moore's friends. It also caused Kandi Burruss to get violent as well. After that, Andy Cohen and Bravo instituted a no violence policy. But that didn't stop Porsha Stewart from losing her cool at the reunion and almost rip out Kenya's weave. But will she get fired?
Should Porsha Be Fired?
It's pretty straightforward: there's a no violence policy. It's standard fare for reality shows. Cast members of The Real World have been tossed for getting physical. This instance was particularly hardcore. One slap would be minor but she actually took Kenya to the floor. And in truth, Porsha doesn't really add much to the show. She's been inconsistent. Her first season, she was a dutiful wife with weird puritanical morals. Her second season, she was constantly crying about her divorce. Her diva behavior with her huge rental house and her demands during Kandi's musical were also a bit much. At the reunion, she was sassy and a little ratchet. So who is the real Porsha? By now we should know who she is and want her to be on the show. If she doesn't add anything, has no clear personality, and is just trying on personalities to be on TV she could go to another network.
Should Kenya Quit?
The ladies have rallied around Porsha. Many have said they would leave if she's fired. Kenya also filed assault charges against Porsha, which resulted in a hilarious overly made-up mug shot. Kenya has even said she might quit. She did provoke Porsha by waving a scepter at her and yelling in her face with a bullhorn. Sure that's bad behavior but this is Real Housewives, it's expected. She didn't break any rules and gave everyone watching Bravo what they wanted. Kenya must stay on the show. She's honestly the best part! Sure she can be a villain, instigator, s**t starter, but so is Andy Cohen. NeNe has become an abstract concept of her former self. She has fought with everyone and she brings more toxicity to the show than Kenya. Kenya brings fun, drama, a little crazy, and some of the best interview quotes on the show. The only real problem is she doesn't get along with anyone but Cynthia Bailey and Kandi. But there may be some potential to add new ladies and refresh the show.
It's unclear what the future holds for Kenya or Porsha but if you have to choose one person to stay it's Kenya. Porsha didn't even know the Underground Railroad wasn't an actual train. It wouldn't be the end of the world if a few people were swapped out on the show maybe even Queen NeNe herself. But we do want more of Kenya Moore.