'SNL' Recap: The Time We Fell in Like with Kevin Hart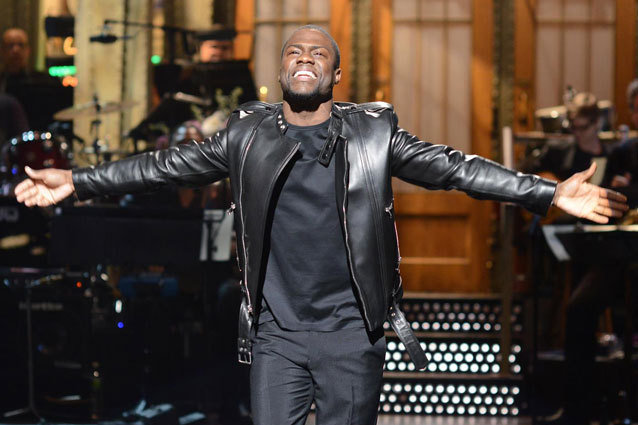 Kevin Hart made his Saturday Night Live hosting debut this weekend and although we had high hopes for the comedian, his performance — like most of SNL this season — was lackluster, to say the least. True, Hart's opening monologue was far better than most hosts who grace the stage, but his inability to keep a straight-face in the simplest of roles and flubbing through the cue-cards on Weekend Update left us wishing for more. Don't believe us? Catch up on all the SNL mediocrity you may have missed below.
Sequester Cold Open: Jay Pharoah once again channeled his inner President Obama and took the podium to explain the recent budget cuts. It was just as you would expect from an Obama cold open and told through the signature abrupt pauses that only our President and Pharoah have seemed to truly master. However, things took a turn for the random — and we'll admit, totally awesome — when the Village People-esque workers took the stage for a subtle Y-M-C-A shout-out.
Kevin Hart's Monologue: At first it felt like we were watching one of Hart's Comedy Central specials, and that was what made this host's opening so enjoyable. Rather than trying to woo the audience with an overly-rehearsed and tired song-and-dance, Hart opted to rant about an encounter with a homeless man at Panera Bread mixed with his audition impressions for SNL, The result was a random and smile-inducing monologue that left you with a hilariously random visual of a man placing his entire palm on a stranger's sandwich.
RELATED: Why You'll Heart Kevin Hart on SNL
Steve Harvey Show: Phobias: Keenan Thompson once again donned his Steve Harvey bald cap and introduced audiences to his newest segment on phobias—that's pronounced pho-by-ahs. Hart played a man who was deathly afraid of horses because they would "steal his rings." The sketch was most definitely a flop and when they brought out a fake stuffed replica, the phrase "beating a dead horse" took on a whole new meaning.
New Pope: The newest pope has been announced and it's… Quvenzhané Wallis?! Hart took on the character of the pint-sized Oscar nominee making her the youngest, first female, and first African American pope in the Catholic church history. Wearing a dark blue replica of her Oscar dress and perfecting Wallis' strong man/fist pump move, Hart fully committed to the bit.
Barnes and Noble Firing: Bobby Moynihan and Cecily Strong's disgruntled-employees sketch threw a plethora of jokes at the audience, and while not all of them were successful, the rapid-fire of insults were enough to make us giggle. Apparently Hart thought it was funny too because he couldn't seem to keep a straight face at the end of the scene.
RELATED: Kevin Hart SNL Promos
Weekend Update: Really?! with Seth and Kevin Hart: All we're going to say is no Really?! segment is truly successful unless Amy Poehler and/or Tina Fey is involved. Also, Hart kept tripping over words despite the fact that the cue-cards were right in front of him.
The Walking Dead: In perhaps his best sketch of the night, Hart enters the world of The Walking Dead and takes on the question, "What if a zombie was black?" Hart is clearly a zombie, but every time the group attempts to shoot him or question him, Hart quickly accused the gang of being racist. Bonus-Points for incorporating the thriller dance into this one.
Shark Tank: Hart aims to offer the ABC investors a revolutionary product but all we were left with was a ho-hum sketch. His brilliant product is a lampshade with a pair of sunglasses on it and the entire sketch felt like we were on the outside of someone's awkwardly confusing inside joke.
Z-Shirt: Taking advantage of Hart's excessive energy, the powers-that-be at SNL created a '90s-themed commercial for "Z-shirt" Basically, Hart went all the way from A to L asking what kind of shirt his friend was wearing. The only positive was the vague Fresh Prince of Bel-Air graffiti-filled basketball court, and that's just because we like bright colors.
RELATED: Justin Timberlake Suiting up for SNL
Recording Session: Hart and the lovely Vanessa Bayer were competing to be the voice-over actor for Dove chocolate — or as Hart calls them "chocolate nugget things." This sketch was actually a lot like Dove chocolate: sweet and satisfying, but if you were to have too much, like a whole episodes worth, you'll feel sick.
Oh and Macklemore and Ryan Lewis were on hand to perform that song that used-to-be awesome but now it just wont die: "Thrift Shop."
What did you think of Hart's performance on SNL this week? Sound off in the comments below!
Follow Leanne on Twitter @LeanneAguilera
[Photo Credit: Dana Edelson/NBC]
---
From Our Partners:


Justin Bieber Celebrates 19th Birthday, Loses His Pants (Vh1)


60 Celebrity Bikini Bodies: Guess Who! (Celebuzz)