Khloe Kardashian Talks 'X Factor' Nip Slip and Hosting Advice From Kim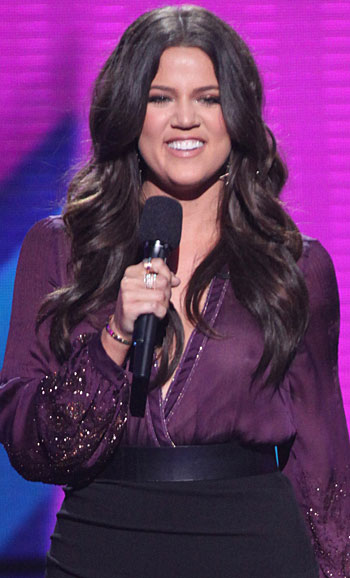 Khloe Kardashian took the stage Wednesday night ready to show off her newly-acquired hosting skills, but instead the reality starlet revealed two rather perky mistakes. To help shed some light on her bra-less debut, Hollywood.com chatted with the surprisingly grounded host last night in The X Factor's lounge.
Kardashian rocked a tight LBD (little blue dress) on Thursday's live elimination night, and after receiving a compliment on said Smurf-blue dress, the reality show queen revealed the reasons behind her wardrobe choice: "I was supposed to wear this yesterday and it was not tailored enough, so then I wore that other thing," She tells Hollywood.com with a sly smile. That "other" thing the hostess is referring to would be Wednesday night's sultry but oh-so-sheer plum-colored blouse. To use Simon Cowell's words, "May I say, Khloe, you're looking very sexy tonight. I think the air conditioning's on high tonight. It's very distracting." In other words, everyone tuning in Wednesday night saw that he host was rocking two very prominent accessories.
The brunette bombshell says she had absolutely no clue that her lady buttons were exposed for the entire world to see. "Well I thought I looked really good when I was walking out… Since the show has been pushed up and with the hurricane all the stuff I wanted to wear was stuck on the east coast and we did not have time to do a full dress rehearsal in our clothes." She continues, "But in my room with the dressing room lights it looked great! You couldn't see a thing."
"We were rushed out on stage and I see Simon kind of doing something like this [gestures to her chest] and I went like that to my hair thinking that's what he saying. And then I hear in my ear, they're like, 'We've got to fix your shirt!' and I'm thinking but I'm using double sided tape! And they're like 'No, full-areola is out!'" She says with a laugh, "Basically they were like we know exactly what you look like [naked]." The Dash co-founder revealed that they were frantically trying to fix the problem during the first live commercial break. "We tried to put like band aids or something on it and it didn't work and so then we had to wait for the second break and finally they found something that fixed it," she giggles. Phew! That's one way to make your hosting debut.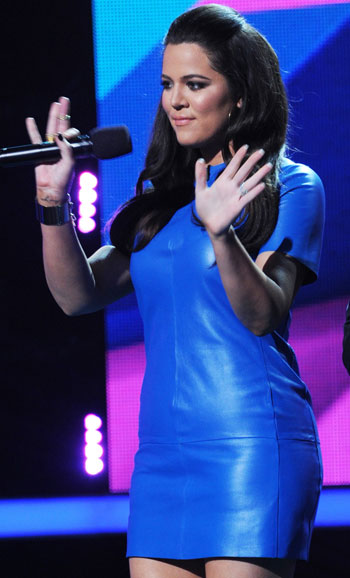 The youngest of the Kardashian trio was completely comfortable talking about her exposed evening. Hmm, maybe it's because this was not her first nip-slip adventure—back in June 2011 she flashed the world with another sheer blouse on a FOX morning news show. Girl, I think it's about time we say "tootles!" to the tops that expose your ta-tas. "I'm fine, it was more like, really? It's my first show, like I'm not stressed out enough, [and] now this is happening?" The entrepreneur admits that she did have one slight moment of panic late Wednesday night, "Like am I going to get in trouble? I don't know anything so I was like, "I'm going to be fired [because] of my boobs!" Not to worry nipple fans, Kardashian has not been removed from her place alongside Saved by the Bell hunk A.C. Slater Mario Lopez.
The world-famous reality star says that she "definitely" wants to keep improving each week as a host. "My first week, I'm so happy that it's done and under my belt because yesterday's show and today's show are totally different formats… I think it's great now that it's done and I can learn. I'm excited to watch the footage and see what I want to critique." And of course the entire Kardashian/Jenner clan is eagerly waiting to offer their tips and opinions.
"I noticed that Kim sent me text right after this… And so Kim was like 'You're doing great! But you do kind of yell at some points.' And I did notice that during it and so that's something that I want to work on." She explains that the crowd in the studio is beyond loud—it's true, they're ridiculous—and she feels like she needs to compete so that her voice will be heard. When Hollywood.com suggested if it's kind of like talking when you're listening to music through your headphones, her eyes lit up exclaiming, "Yes! It's exactly like that."
All in all, if you overlook the peepshow and screaming at the camera, the first-time host did a pretty solid job in a high-stress situation. Kardashian says with a shrug, "I think I'll only get better—well I hope."
What did you think of Khloe's first week hosting The X Factor? Did you find her nip/slip funny or unforgiveable? Sing us your thoughts in the comments below!
Follow Leanne on Twitter @LeanneAguilera
[Photo Credit: FOX]
MORE:
Khloe Kardashian flashes nipple during The X Factor debut
'X Factor': Khloe Kardashian Odom, Mario Lopez Announced as Hosts
Khloe Kardashian Discusses "Not a Real Kardashian" Rumors: Late Last Night

Country Music Association Awards 2012: See the Best-Dressed Stars of the Night (PHOTOS)
(Celebuzz)