Kim Zolciak Says She Could Return to 'Real Housewives of Atlanta' Next Season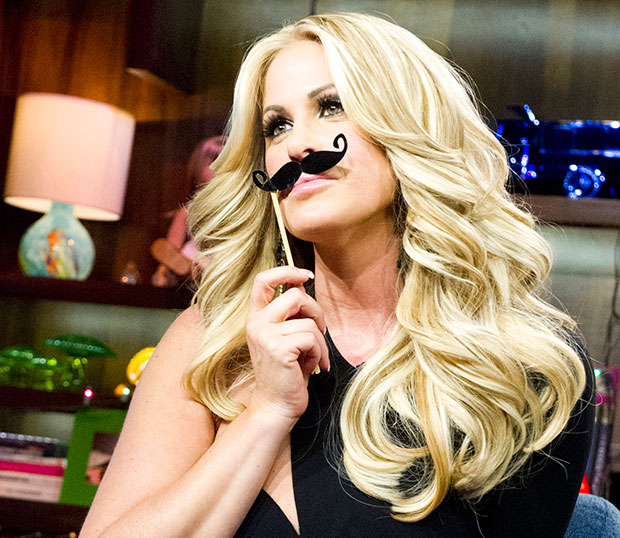 Reality show brawler and wig aficionado Kim Zolciak knows how to make an exit. Last week on Real Housewives of Atlanta we saw her storm out of a brunch and get in a fight with a cameraman. In Sunday's episode, which Bravo is billing as her last as a Real Housewife, we see the fight continue and her husband, football player Kroy Bermann, get involved. Like I said, she knows how to go out. But this might not be the end for Kim?
Talking from her new Atlanta home (yes, she finally completed that move we've been hearing about all season) Kim says that even after the promotional campaign and the announcement that her solo show Don't Be Tardy… will be back for a second season, she might not be done with the Real Housewives yet. "If RHOA gets picked up for Season 6, I would consider returning. My priorities were different [this season], but we'll see what happens." As one of the only two remaining original cast members (along with NeNe Leakes, who is costarring in The New Normal on NBC and splitting her time between LA and the ATL) long-time fans would love to have to brash bombshell around to stir up the drama.
And Kim promises, if she returned, there would be fireworks. "I won't be pregnant!" she about filming Season 6. "I've been pregnant for the last two years. I can handle my own over the five years [of taping the show], but when I'm pregnant I try to keep myself calm because I have another life to take care of. If I'm taping and I'm not pregnant, I'll be back to my fiery self." Oh, Kim, that's all we could ask for.
Right now she's busy with baby boys KJ and Kash, who she gave birth to in August shortly after cutting her stint on Season 5 short. "I had blood pressure problems. Filming is stressful, you know," Kim says. "I got to the point, where I had enough. The last thing I wanted, I didn't want to put my son in my stomach in jeopardy."
Though she'll be sitting out the rest of the season, we'll see her, the rest of her family, her best friend Jenn, and her colorful entourage on the next season of Don't Be Tardy…, a spin-off of her wedding special that was a hit earlier this year. The other big project she has in the works is her long-discussed wig line, which Kim promises is almost ready and should hit stores in 2013. Everyone's hair is excited.
As far as Real Housewives goes, Kim said she went into it in 2008 with no expectations but having fun and it managed to change her life and made her dreams come true. Her favorite thing, she says, was releasing her single "Don't Be Tardy for the Party." "I wanted to do a song my whole life and I wanted to have fun with it, even though I looked insane and comical recording it," she says. "I lived a dream. That was something I always wanted to do. That will definitely be one my best memories."
But with all of those great memories there were all the fights that went along with it. "I don't like confrontation and it's always been hard when there are fights, I get so irritated by it," she says about her many dust-ups. "Being on the bus with Nene, she's someone you have to watch out for. She can be physical. It's one thing to be in a argument, it's another thing to get physical."
There aren't only bad memories though. "I think the most talked about [fight] was when Sheree pulled my wig, which was funny. It wasn't funny at the time, but it's funny now." Being able to get through that and laugh at herself is why we will always love Kim. Please let her be back. Pretty please, with a wig on top!
Follow Brian Moylan on Twitter @BrianJMoylan
[Photo Credit: Charles Sykes/Getty Images]
More:
Kim Zolciak Has a Baby Boy and Gives Him a Karadshian Inspired Name
'Real Housewives of Atlanta' Recap: Kim Zolciak and the Great Dramatic Huff
'Don't Be Tardy for the Wedding': Kim Zolciak Finally Grows Up
You Might Also Like:

6 TV Kids Who Vanished