Kris Jenner's New Talk Show Proves She Needs to Stay A B*tch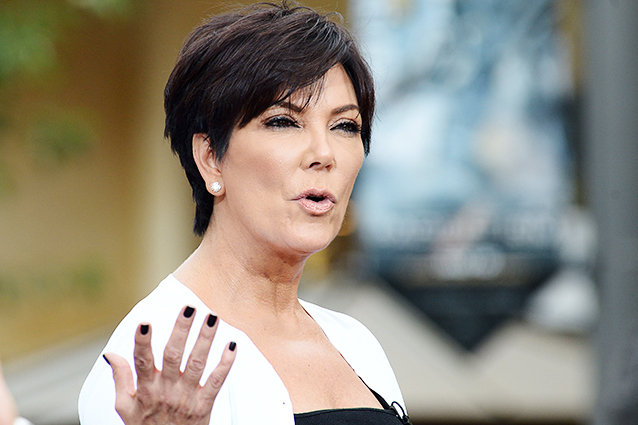 In the weeks leading up to the premiere of Kris Jenner's talk show, Kardashian fans (and haters) were skeptical of the momanager on daytime television. FOX attempted to cover its bases by only giving Jenner a Summer trial and by also having her co-host the show with a different famous person for each episode. Not even the seasoned host, Kathy Lee Gifford, who is also a close family friend, was able to save this circus. 
 The producers literally threw everything including the kitchen sink in attempts to breathe life into this broadcast. Within its first week of airtime there has been a magician, a Burlesque crew, a monkey the former Bachelor, Ben Flajnik . Let's not forget her family members, including her daughter Khloé Kardashian-Odom. They both proceeded to play drinking games and over share about their sex lives, where Jenner divulged that her and Bruce are members of the mile high club. She shouldn't try so hard; we already know they don't sleep together. Her forced bonding session with Khloé may be going viral, but the best segment yet has to be 'Mom's Must Have Gadgets'.  Jenner can't even fold a stroller that folds itself. And for all you moms out there, the stroller is all yours for a whopping $849 (shipping and handling not included). Gee, she's so in touch with her stay-at-home mom audience. 
Jenner is not fooling anyone with her seemingly down to earth personality. She sounds entirely scripted, making her two dimensional and fake. Her new found dedication to being a family woman and normal every day mom is laughable.  Anyone who has been Keeping Up with the Kardashians for long enough can appreciate Jenner for being a raging b*tch. Fans of the reality tv show love her because she is so outrageous. Jenner has stripped herself of her edge with the delusion of becoming more accessible. No wonder she needs other famous people to help her on the show. Without them, the show would be as exciting as watching molasses. 
There is no denying that Jenner is a brilliant businesswoman. Any individual who can make a multimillion dollar empire out of a sex tape and virtually no talent absolutely deserves their own show. Hey, she works with what she's got and there is a lot we all can learn from that type of resourcefulness. Jenner needs to realize that the sass and know-how that made her famous are the exact same tools that will lead to her survival on television. She needs to stop trying to be a poor man's Oprah and start being the Kris Jenner we all know and love because lord knows we miss her. 
Follow Hollywood.com on Twitter @Hollywood_com | Follow Maité on Twitter @MaiteCubilette
More:
Kim Kardashian and Kris Jenner Speak About New Baby
With New Talk Show, Kris Jenner has Won and All of Us have Lost 
Kim Kardashian and Kanye West Welcome Baby Girl
---
From Our Partners


Battle of the Bikini Bodies (Celebuzz)


Fangbanging: Complete Guide to All of 'True Blood's Sex Scenes (Vh1)