'L.A. Complex' Star Cassie Steele on the Show's 'Dark' Side. Plus: A Drake Cameo?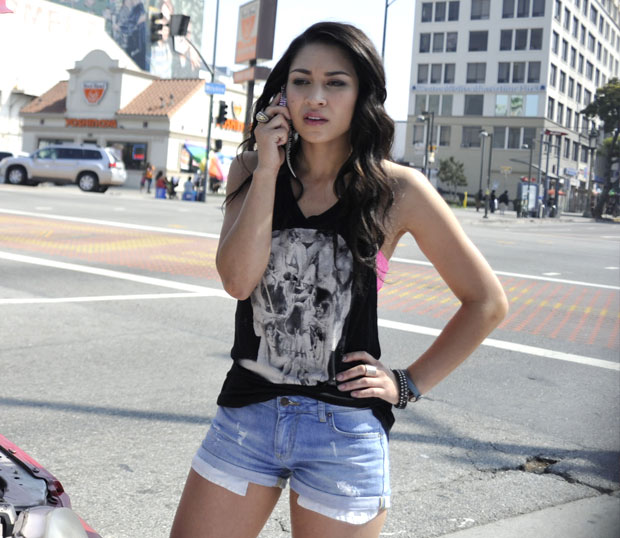 You may know her as Manny Santos, the aspiring actress who struggled alongside a wheelchair-bound Drake on Degrassi: The Next Generation (for 10 whole seasons, no less), but Cassie Steele has graduated from Degrassi and moved right on to Hollywood. The actress now boasts a new CW series, The L.A. Complex, which premieres April 24 at 9 PM (ET/PT). What can we expect from Complex, which follows Abby (Steele), an aspiring actress who struggling to find work in the industry? Plenty of darkness, according to the actress. "That's why I really like it," Steele tells Hollywood.com. "It's nice that we're putting out there the darker things that you have to go through [in the entertainment industry]. … That's what makes your character … You have to make some decisions that will make or break your morals or your ethics." 
Though Abby can't nab an audition, she's lucky enough to nab an apartment in a dinky complex — think Melrose Place minus the polish. And you guessed it: That's the L.A. Complex in question. Of course, no series title can be that literal without a double meaning. If you ask Steele, the title also describes the mental anguish that any struggling performer or artist experiences. "You have to put yourself out with everything you have, and [rejection] happens over and over and over again," she says. "There are so many reasons you're not the person that they cast and you can go from being everything to nothing and nothing to everything in a day … I think any sort of job that has that pattern will have a complex … aggression, narcissism, all that good stuff." (Not to mention raciness — the series offers up plenty of not-so-PG storylines as well.) 
But we Degrassi fans can't help ourselves: What about Drake? Will Steele's former Degrassi cohort make an appearance? (After all, the rapper's name is dropped several times throughout the Complex pilot.) "I would love if he could come on, but he works so much, so hard. But maybe. I won't say no … hopefully!" Steele says. Degrassi fans: Please start your letter-writing campaign now!
The L.A. Complex premieres at 9 PM (ET/PT) on The CW. Will you be watching?
Follow Kelsea on Twitter @KelseaStahler.
[Image: Darren Michaels/Courtesy of Epitome] 
More:
Nicki Minaj and Drake Party in Bizarre new Music Videos
Vampire Diaries Sneak Peek: Something Dastardly This Way Comes