Lady Gaga, Josh Hutcherson, and 10 Other Surprising Stars Who Have Never Hosted 'SNL' Before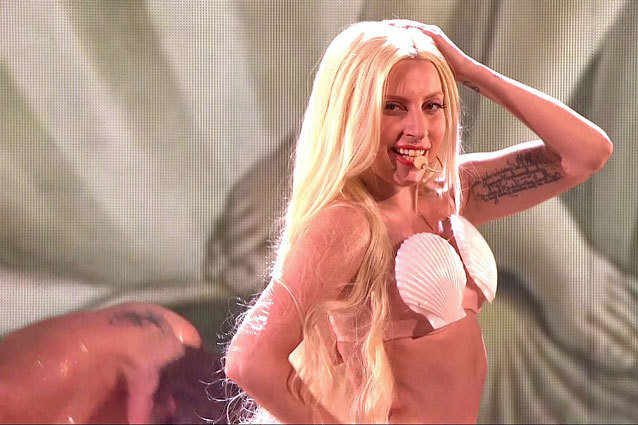 Supplied by WENN
No, you didn't read that incorrectly — neither Lady Gaga or Josh Hutcherson has hosted Saturday Night Live before. However, things are about to change: according to Deadline, both Gaga and Hutcherson will take to the Studio 8H stage during November.
Gaga is set to host (and appear as the musical guest) on Nov. 16, which is five days after the release of her new album ARTPOP. As for Hutcherson, he will make his debut on Nov. 23 in an effort to promote The Hunger Games: Catching Fire, which hits theaters the night before, alongside the popular sister-band HAIM.
Upon hearing news that neither Gaga or Hutcherson has never played the part of host for the late-night show, we started thinking about which other big-name actors have yet to receive their comedy gold-star from Lorne Michaels.
Here are 10 actors who we're surprised have never hosted SNL before:
Leonardo DiCaprio
Leo — the boy who graced the bedroom walls of every high school girl after starring in Romeo + Juliet and Titanic in the early '90s — has never hosted SNL? Someone needs to fix that.
Kristen Bell
For someone who's been a part of the Hollywood scene for quite some time (and who seems to have such a strong sense of humor both on and off the screen), it's quite strange that she hasn't been invited to Studio 8H yet. But hopefully her upcoming Veronica Mars movie will give the SNL producers the right idea.
Aaron Paul
After watching Pauls' "E-Meth" commercial parodies, we have no qualms about his ability to host the entire show. Plus, without our weekly fix of Breaking Bad, we're desperate to see Paul on our TV sets again. 
Peter Dinklage
Although Dinklage has graced the SNL stage with his presence during a cameo, we definitely think he deserves the whole 90 minutes. We want more Peter Drunklage!
Lena Dunham
Dunham is about to enter her third season of Girls and we haven't seen this funny lady take the stage? We're calling bulls**t. (We're just not-so-secretly hoping that we'll get to see another Girls parody.)
Sandra Bullock
Gravity might have just slipped around the corner after its stellar opening performance at the box-office, but that doesn't mean that Bullock can't head on over to SNL to have fun with some NASA sketches.
Nick Offerman
Offerman has already shown his comedic excellence on Parks and Recreations, and plus, we're pretty sure that NBC would love to have one of its own host the show. All we can say is that we hope he brings his wife Megan Mullally along for the ride.
Amanda Bynes
We're not saying that she should host anytime in the near future, but after years of starring in several of her own shows and movies, it seems like she's an untapped comedic treasure that SNL could have used to its benefit.
Ryan Gosling
Gosling might be more known for his recent dramatic roles, but that doesn't mean that he wouldn't be up for prancing around in silly costumes.
Michelle Obama
Kanye West might have some problems with our First Lady, but we have no issue with Mrs. Obama making us laugh. We already know she can mom dance with Jimmy Fallon, so why not move those shaking hips on over to SNL?
And just one more surprise never-hosted: Brad Pitt. Can you believe that? He's Brad Pitt, after all!