Lady Gaga Hosting 'Saturday Night Live'? Yes, Please!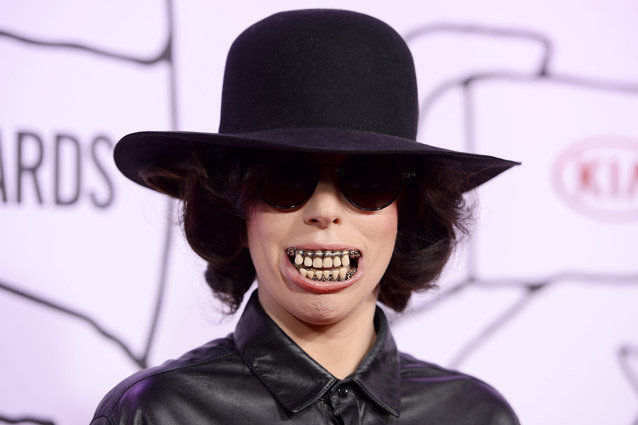 Getty
Two forces are on their way to colliding: Lady Gaga and Saturday Night Live. Gaga will be hosting the show for the first time on Nov. 16 and like two galaxies merging, it's going to create something brilliant and spectacular.
The writers for the show have to be looking to the sky and thanking whatever stroke of luck came their way. The wardrobe people will likely be up several nights in a row thinking of the most zany outfits that they can and then burning those ideas and coming up with even more bizarre things. Remember, this is a woman that felt comfortable walking around in a suit made of MEAT. No, this isn't some kind of demonic possession-speak here.. she had actual slabs of meat strategically placed around her. Thank goodness there were no big dogs around.
This has the chance to be one of the most memorable shows EVER. There's so much ground they could cover…and Gaga is NOT afraid to do anything controversial. (Just as long as she doesn't pull a Sinead O'Connor, but she doesn't seem like she's a risk to do something like that.) She's also going to be handing the music duties, so all eyeballs will be on her for most of the show. Heck, I wouldn't be surprised if they didn't get her in "Weekend Update" too.
What's disappointing is the lack of veteran cast members on the show. It would have been really interesting to see Andy Samberg (who did a memorable Digital Short with Gaga and Justin Timberlake a few years back), Fred Armisen or Bill Hader interacting with Gaga. Heck, Maya Rudolph could have done something REALLY good with her too. I'm sure that some of the more tenured cast members will be able to lead the newer players through the wildness that is Lady Gaga, though.
The people who are in the studio audience for this one will probably leave with one of two expressions on their faces: "That was AWESOME." or "That woman is WEIRD." But they will leave having been entertained, which is what Gaga does. The one thing that is practically guaranteed here is that there will not be a black hole formed, where all interest goes to die, with no escape possible.